Hi, I'm new to the forum, and I also recently started using SNAP, version 9.0.0, besides I don't know English well, so forgive me if my writing is confusing.
I'm trying to proceed to make a Terrain Correction in an image from Sentinel 1, but I always get the same error problem.
Before reaching this point, I previously proceeded to perform the following steps:
Subset
Apply Orbit File
S-1 Thermal Noise Removal
S-1 Remove GRID Border Noise
Calibration
Single Product Speckle Filter
So far so good, but when I proceed with the following instruction:
Range-Dopper Terrain Correction
The following error message appears: A problem occurred during the target product initialisation. Type OperatorException. Message: Entire image is outside of SRTM valid area. Please use another DEM.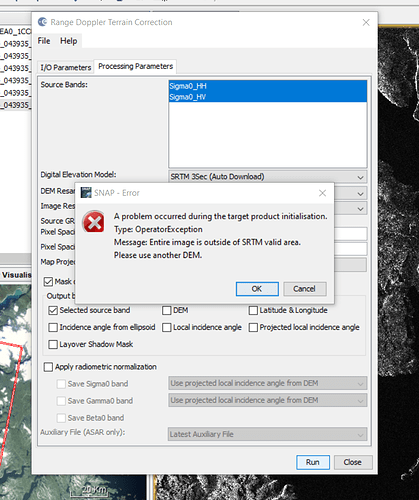 Exception.txt
(7.9 KB)
Please, if someone can solve this problem, I would greatly appreciate it because I have run out of ideas.
Thank you so much