Hello,
My ultimate goal is to have a calibrated, terrain flattened, terrain corrected, projected sigma0 image in dB. I am starting with S1A EW mode medium resolution GRD data (S1A_EW_GRDM…).
Here is my workflow in S1TBX (tried beta 7 and 8, also 1.1.1):
Calibration
Terrain Flattening using external DEM (gives gamma0 images)
(Range Doppler) Terrain Correction using same external DEM and projecting to UTM (gives gamma0, elevation, lat, lon, localIncidenceAngle, projectedIncidenceAngle, incidenceAngleFromEllipsoid)
Convert gamma0 to gamma0 in dB
Everything in steps 1-4 looks OK as far as I can tell (the TF and TC seem to have done their jobs).
But, I need to get sigma0 values in dB so I apply some band math, assuming:
σ0 (dB) = γ0 (dB) + 10 * log10(cos(incidence_angle))
Which gives me (I am using the incidenceAngleFromEllipsoid) an image with banding: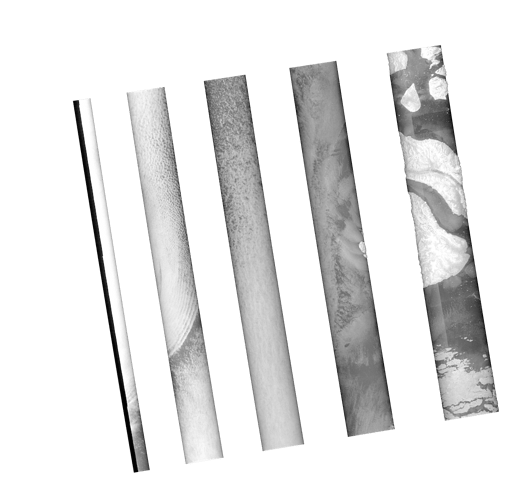 The white bands above seem to be set to NaN. It's weird, because my incidence angle image doesn't appear to contain anything that would cause this banding. Is my math incorrect, or is this a bug? Is there a better way to get the sigma0 I want (post TC and TF)?
Thanks for any help you can provide.