Hello ABraun,
Thank you for the answer! It's perfect, now I know what are the all output and I've one more question: I'm running sen2cor using scripts (like you) and I want to know I can set the script so as to obtain only the Bottom of atmosphere corrected (which is the only one I need).
Thank you,
Piero
Hello ABraun,
I have a problem regarding SEN2COR plugin . The output file which was obtained after processing has same DN values as the input file. I was unable to find where i was wrong. Please help me out.
Thanks,
Mounika
are you aware of the QUANTIFICATION_VALUE?
Are the values exactly the same? You could check with the scatter plot tool.
The below image is output of band 2 of L1C product.

this is input data set plot for the same


Is the output correct?
I have changed the input file location that is the reason i got the wrong output…Now i have resolved it. The process was successful but the output files which were found in c:\documents\sen2cor folder were like as shown in image.


How or where can i get the processed image? Please help me out
Thanks,
Mounika
yes, that is possible. They should now be S2A_USER… instead of S2A_OPER…
This means that it was successfully performed.
are you sure this is your output data? It usually lies in a folder S2A_OPER…
How do you open it?
is there no metadata file (S2A_USER_… .xml) in the folder above?
Open this instead of the single image files. Just like you opened the original product.


hey, Mounika
You used Sen2Cor plugin? why I can not output images?
Thanks alot. It worked. why it was not opening when i was trying open by layer? And from this metadata how to identify band with 10m resolution if the bands were as shown in figure.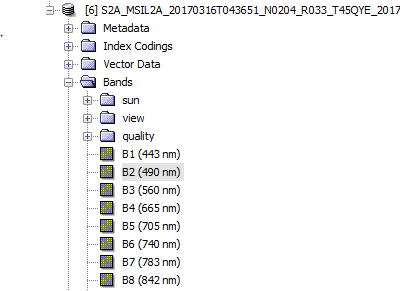 And have another issue with processing.for few datasets it was running properly and for few it was running only for 20m resolution and 60m even when i input only B02-B04 and B-08 bands and for one dataset it was not at all running for all the three resolutions and have shown the following dialogue box.

In product explorer, select the product which you want to export and click export under files.
Please read the sen2cor manual and use the search function of this forum. Many things like this have already been discussed in other topics.
now click sen2cor button, there is no response.
It seems like nothing happend.
you use which type of data?


or


I can not open the second data in SNAP.
hi, ABraun,
do you meet this problem?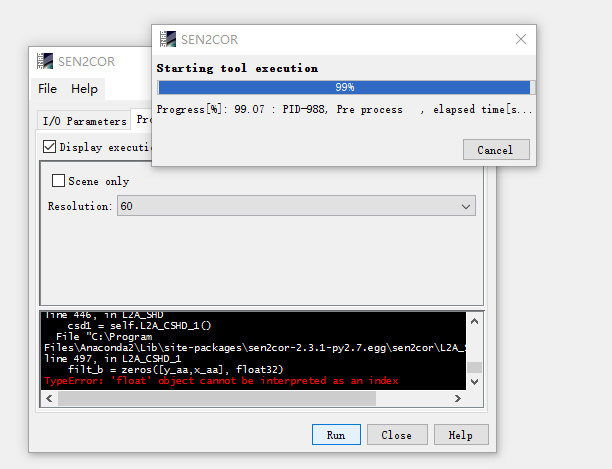 hey, ABraun
It seems you are a expert in using SNAP. I have two questions to ask using Sen2Cor.
(1) I open data
image.png793x243 13.7 KB
when i process, the result show:
how should I address this problem?
(2) can you open this type of data?
image.png917x250 16.8 KB
i try to open in SNAP, but when the data was loaded, there is nothing in product Explorer.
Thank you very much for your help. I am a little urgent about the processing, please help me as soon as possible
Thanks again!
It's really hard to detect errors from the distance so I just can tell how sen2cor works for me:
Installing sen2cor
Download sen2cor.zip, exctract and run python setup.py install


Downloading and extracting S2 data in C:\Temp\S2\S2A_MSIL1C_20170410T103021_N0204_R108_T32UMU_20170410T103020
Keeping the full path is crucial
Open it via File > import > Optical Sensors > Sentinel-2 > S2M-SI S2A


Adjusting path names under Tools > Manage external Tools > sen2cor > edit
Make sure that you enter the full path to your python.exe for the variable PYTHON_BIN (the one you installed sen2cor for otherwise the required modules are not found)


For single tiles, the output raster is written in C:\Temp\S2A_MSIL2A_20170410T103021_N0204_R108_T32UMU_20170410T103020.SAFE
[2] Output product is shown in the product explorer

View results and compare raster values of both products
Both statistically and visually the rasters have changed



Before:



After:

Last but not least - have a look at the manual for the details:

Hey, Braun,
I sent you attachment in case of open failure. Please check it.
Thanks a lot
Best regard
Xianghong Che
Xianghong Che | Global Land Cover Facility | 4321 Hartwick Building, College Park, MD 20740
E-mail:chexh.15b@gmail.com
problem.pptx (88.3 KB)