25.1.21
Hi,
I have several S1-IW products from September 2020 which I need to preprocess with a specific land/ desert research area (.shp file).
Here are the steps I do for each product:
(1) Product split and choose IW3 (in: Radar -> Sentinel-1 TOPS -> s-1 TOPS Split; selecting Subswath=IW3, VH).
(2) Thermal Noise Removal (in: Radar -> Radiometric).
(3) Apply Orbit File (in: Radar).
(4) Calibration to Sigma0, VH (in: Radar -> Radiometric).
(5) Deburst (in: Radar -> Sentinel-1 TOPS -> s-1 TOPS Deburst; VH).
(6) Speckle / Salt-and-Pepper removal (in Radar -> Speckle Filtering -> Single Product Speckle Filter; "Lee Sigma" Filter with a window size= 17*17).
Then, I do some Raster actions:
(7) Subset - for getting the research area rectangle (Raster -> Subset).
(8) On (7), I import the research area polygon/ vector file (.shp) via: File -> Import -> Vector Data -> ESRI Shapefile.
(9) Finally, I want to mask out the polygon with: Raster -> Masks -> Land/ Sea Mask -> Use Vector as Mask.
BUT -
It seems to me that the resulting mask comes with speckles/ salt-and-pepper noise, unlike the rectangle/ subset in step 7, as if I never did step 6. ** I'm sure I applied step 9 on the subset/ rectangle from steps 7-8.
See for example:
The subset (without polygon):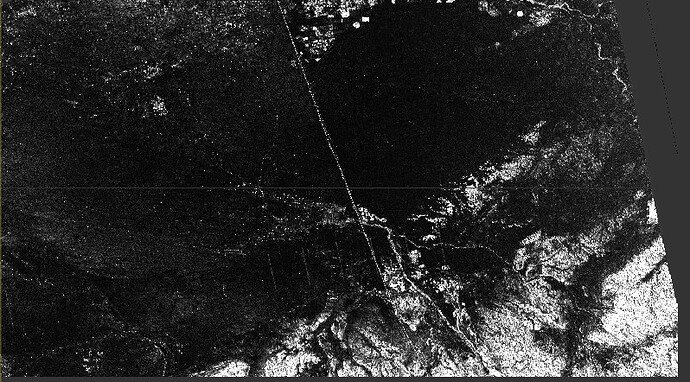 The subset (with polygon - just for showing it on subset):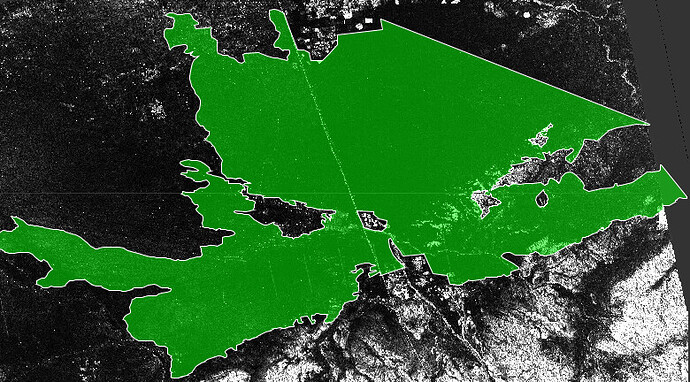 The masked polygon (you can see it came with much noise):

** Did someone encountered this issue? Is it a bug? Can you please help?
Thanks,
Ricky