Hello,
I would like to compare two S1A_IW_SLC_1SDV products. In particular, I am interested in the multitemporal backscatter differences of those two.
Here is my current workflow. I attached also the output Metadata of the product, written after the speckle filter step: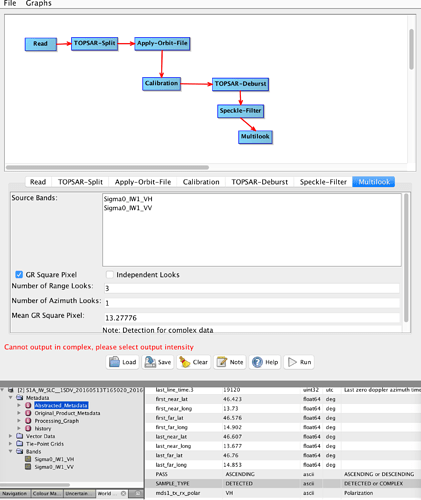 I am struggling with the multilook step. I always get the Error "Cannot output in complex, please select output intensity". The problem appears to happen when the speckle filtering step is done. When I look at the Abstracted_Metadata, the SAMPLE_TYPE is DETECTED (not COMPLEX).
**Graph steps parameters **
Apply Orbit File => Sentinel Precise
Calibration => Output sigma0 band
TOPSAR->Deburst => VH, VV
SpeckleFilter => Sigma0_IW1_VH, Sigma0_IW1_VV => Gramma Map
I would like to do stacking or coregistration after this step, but I don't get the multilook step working.
Any help would be much appreciated. I am completely new to this field, so please forgive me if the answer may be trivial to you experts out there.
Best regards,
M.