Hi All,
I have procced some RCM data and faced some issues that I would like to share them with you to know whether has anyone encountered the similar cases.
Three RCM pairs were processed as follows:
Pair 1:
RCM1_OK1049807_PK1049808_1_16M11_20191028_224339_HH_HV_SLC
RCM3_OK1049807_PK1049809_1_16M11_20191024_224401_HH_HV_SLC
(Index of /users/OpenData_DonneesOuvertes/pub/RCM/Montreal)
Pair 2:
RCM3_OK1971456_PK1971552_1_5MCP11_20200406_222006_CH_CV_SLC
RCM1_OK1971323_PK1971489_1_5MCP11_20200410_221944_CH_CV_SLC
Pair 3:
RCM2_OK1971456_PK1971550_1_5MCP11_20200414_221956_CH_CV_SLC
RCM3_OK1971456_PK1971553_1_5MCP11_20200418_222007_CH_CV_SLC
Issue 1:
Each IFG unwrapped using the SNAP and GAMMA but the results look different?!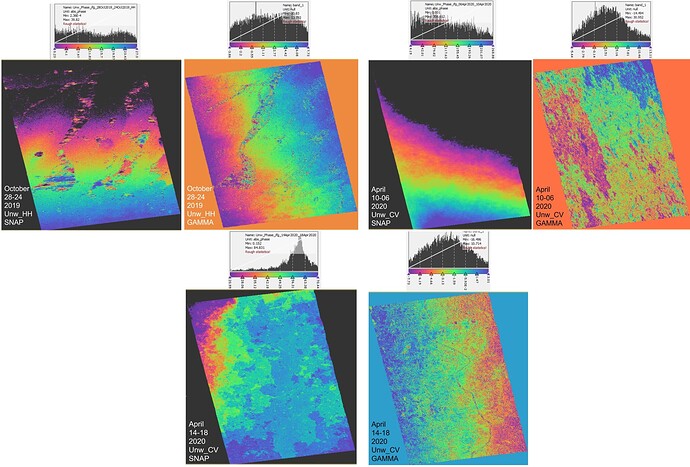 There is a linear phase trend on the unwrapped data, which is apparently related to the inaccuracy of the orbital state vector of the RCM satellites. The unwrapped data were cleaned after detrending (Det).
Thanks for sharing your experience and comments.