Hi everyone,
I encounter a simple bug in SNAP. It might be machine-specific but it is reproducible, so I post it here: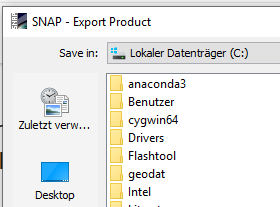 Whenever I click on "Zuletzt verwendet" (engl. OS "recently used") for navigating to directories I get error notifications of expired filelinks that stop SNAP.
It is not a big deal, but sometimes I forget about it and get a crashed session, when I just want to export something.
Does anyone have the same problem?
Best wishes,
Konrad