Hello, I hope this is the right place to ask this question.
I have two sentinel 2 products from the same region. But In one I can't get the RGB natural colours to look realistic.
The two products are:
S2A_OPER_MTD_SAFL1C_PDMC_20160908T063241_R031_V20160907T011652_20160907T011651
Which consists of multiple tiles, I can't get the realistic colour working on this one (it's the larger of the two)
And
S2A_MSIL1C_20170611T010651_N0205_R131_T57WWS_20170611T010649
Both are from near Chersky in north east Russia. Thus with the evergreen forests and tundra the region should be a lot greener and far less red/pink. The difference in the lakes can be attributed to the difference between frozen and thawed lakes. Both images show the 4,3,2 RGB bands in snaps default natural colours setup.
Both are shown in the image below (I projected the smaller on top of the larger):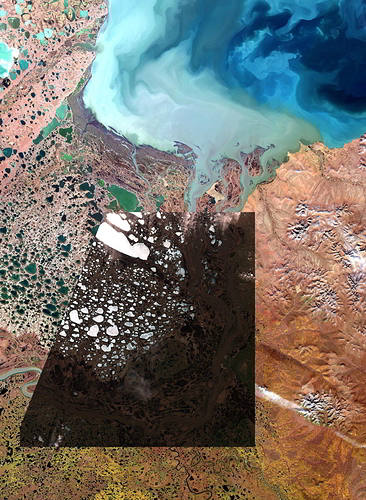 I tried adjusting the histograms but have not been able to really improve on it. I read that large bodies of water could "mess" with the histograms but I'm not sure how to correct for that. Am I doing something wrong, or is there a reason this larger product is not suitable for natural colour representation?
Thanks,
Martijn