Hello! Tell me where you can read the difference between the new version of snap 6.0?
Tell me please you can in snap 6.0 build an interferogram for a large number of pictures? With the help of the PSI / SBas functions?
Hi @Anton_Gorshkov,
Again, a quick search on the forum using your keywords will give you a lot of information on your topic. There are a lot of topics about interferogram creation using SNAP. Remember to try first and if you have concrete doubts that have not been solved before on the forum, of course feel free to post your concrete question.
M
Dear all
I have been working with S1 IW GRD product and until few days ago I have installed on my computer the SNAP 6.0 beta version (installed in October 2017), and for all the preprocessing steps that I have been running everything was done without troubles. However, I updated my SNAP installed for the latest version 6.0.0, and when I tried to run my graph, which processed without problems on the previous version, I have been experiencing some troubles, namely, the processing stuck for long time periods, I waited more than two hours and nothing (see figure bellow). With the previous version I took more or less 20 minutes for this chain processing.
Has anyone else been having these problems? what can I do?
Thank you very much.
Regards
Sérgio Godinho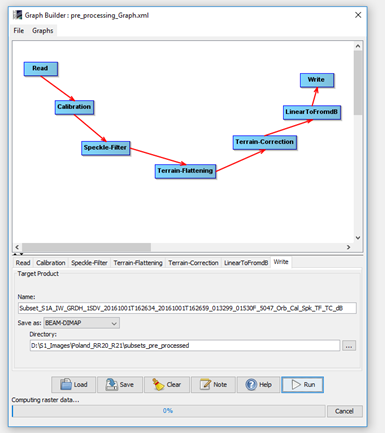 Did you install all the available module updates?
ps. it's very inefficient putting Terrain Flattening and Terrain Correction in the same graph as they are both traversing the DEM simultaneously in different manner. This is true with all SNAP/S1TBX versions. Perhaps in the future we will modify terrain correction so that terrain flattening is an integral part of it, getting rid of this problem.