did snaphu give you any error? Based on your first image it looks like it didn't even start.
I forgot to do one step. Now it is working. Thanks:slight_smile:
I got an error file while unwrapping using snaphu which says
snaphu v1.4.2
Log file generated Tue Mar 21 05:09:28 2017
Current working directory: /cygdrive/c/Temp/snaphu-v1.4.2/bin/subset_S1A_IW_SLC__1SSV_20150417T001852_201505123T001851_005516_0070C1_460B_Orb_IW1_ifg_Deburst_dinsar_flt.data/subset_S1A_IW_SLC__1SSV_20150417T001852_201505123T001851_005516_0070C1_460B_Orb_IW1_ifg_Deburst_dinsar_flt
Command line call: snaphu -f snaphu.conf Phase_ifg_srd_IW1_VV_17Apr2015_23May2015.snaphu.img 2836
File input and output and runtime options
INFILE Phase_ifg_srd_IW1_VV_17Apr2015_23May2015.snaphu.img
LINELENGTH 2836
OUTFILE UnwPhase_ifg_srd_IW1_VV_17Apr2015_23May2015.snaphu.img
Empty value for parameter WEIGHTFILE
Empty value for parameter AMPFILE
Empty value for parameter MAGFILE
CORRFILE coh_IW1_VV_17Apr2015_23May2015.snaphu.img
Empty value for parameter ESTIMATEFILE
Empty value for parameter COSTINFILE
Empty value for parameter COSTOUTFILE
LOGFILE snaphu.log
STATCOSTMODE DEFO
INITONLY FALSE
UNWRAPPED_IN FALSE
DEBUG FALSE
INITMETHOD MCF
VERBOSE TRUE
File Formats
INFILEFORMAT FLOAT_DATA
OUTFILEFORMAT FLOAT_DATA
AMPFILEFORMAT ALT_SAMPLE_DATA
MAGFILEFORMAT FLOAT_DATA
CORRFILEFORMAT FLOAT_DATA
ESTFILEFORMAT ALT_LINE_DATA
UNWRAPPEDINFILEFORMAT ALT_LINE_DATA
SAR and Geometry Parameters
ALTITUDE 698933.20600000
ORBITRADIUS 7072478.31100000
EARTHRADIUS 6373545.10500000
BASELINE 19.43100000
BASELINEANGLE_DEG 174.80942329
TRANSMITMODE REPEATPASS
NEARRANGE 822569.55954450
DR 2.32956210
DA 15.61455090
RANGERES 2653030.60171610
AZRES 81.99448870
LAMBDA 0.05546580
NLOOKSRANGE 1
NLOOKSAZ 5
NLOOKSOTHER 1
NCORRLOOKS 23.80000000
NCORRLOOKSRANGE 3
NCORRLOOKSAZ 15
Scattering model parameters
KDS 0.02000000
SPECULAREXP 8.00000000
DZRCRITFACTOR 2.00000000
SHADOW FALSE
DZEIMIN -4.00000000
LAYWIDTH 16
LAYMINEI 1.25000000
SLOPERATIOFACTOR 1.18000000
SIGSQEI 100.00000000
Decorrelation model parameters
DRHO 0.00500000
RHOSCONST1 1.30000000
RHOSCONST2 0.14000000
CSTD1 0.40000000
CSTD2 0.35000000
CSTD3 0.06000000
DEFAULTCORR 0.01000000
RHOMINFACTOR 1.30000000
PDF model parameters
DZLAYPEAK -2.00000000
AZDZFACTOR 0.99000000
DZEIFACTOR 4.00000000
DZEIWEIGHT 0.50000000
DZLAYFACTOR 1.00000000
LAYCONST 0.90000000
LAYFALLOFFCONST 2.00000000
SIGSQSHORTMIN 1
SIGSQLAYFACTOR 0.10000000
Deformation mode parameters
DEFOAZDZFACTOR 1.00000000
DEFOTHRESHFACTOR 1.20000000
DEFOMAX_CYCLE 1.20000000
SIGSQCORR 0.05000000
DEFOCONST 0.90000000
Algorithm parameters
INITMAXFLOW 9999
ARCMAXFLOWCONST 3
MAXFLOW 4
KROWEI 65
KCOLEI 257
KPARDPSI 7
KPERPDPSI 7
THRESHOLD 0.00100000
INITDZR 2048.00000000
INITDZSTEP 100.00000000
MAXCOST 1000.00000000
COSTSCALE 100.00000000
COSTSCALEAMBIGHT 80.00000000
DNOMINCANGLE 0.01000000
NSHORTCYCLE 200
MAXNEWNODECONST 0.00080000
MAXNFLOWCYCLES 1
SOURCEMODE 0
CS2SCALEFACTOR 8
File names for dumping intermediate arrays
Empty value for parameter INITFILE
Empty value for parameter FLOWFILE
Empty value for parameter EIFILE
Empty value for parameter ROWCOSTFILE
Empty value for parameter COLCOSTFILE
Empty value for parameter MSTROWCOSTFILE
Empty value for parameter MSTCOLCOSTFILE
Empty value for parameter MSTCOSTSFILE
Empty value for parameter RAWCORRDUMPFILE
Empty value for parameter CORRDUMPFILE
Piece extraction parameters
Parameters ignored because of tile mode
PIECEFIRSTROW 1
PIECEFIRSTCOL 1
PIECENROW 0
PIECENCOL 0
Tile control
NTILEROW 10
NTILECOL 10
ROWOVRLP 0
COLOVRLP 0
NPROC 4
TILECOSTTHRESH 500
MINREGIONSIZE 100
TILEEDGEWEIGHT 2.50000000
SCNDRYARCFLOWMAX 8
RMTMPTILE FALSE
ASSEMBLEONLY FALSE
Connected component control
Empty value for parameter CONNCOMPFILE
REGROWCONNCOMPS FALSE
MINCONNCOMPFRAC 0.01000000
CONNCOMPTHRESH 300
MAXNCOMPS 32
also i got a file created without any extension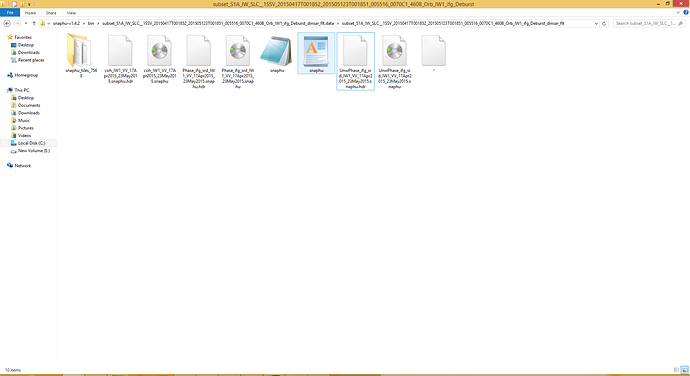 please help
Hi Dear,
Which step you had missed last time?? The error is same for me, so can you please write the steps for me. I am following steps as… Coregistration (TopSarSplit, AppOrbitFile, BackGeocoding) >> EAP Phase correction >> Interferogram Formation >> Top Debrust >> Topographic Phase Removal >> Goldstein Phase Filtering >> Snaphu Export (Did not generated Img file for Unwphase ) >> Snaphu Import (Not working).
Thank you in advance…!!
Hi There,
If I run it from Ubuntu Konsole then I have this ERROR:
compName:~/S1_test/Snap_Export/S1A_IW_SLC__1SDV_Orb_Stack_pc_Ifg_Deb_DInSAR_Flt$ sudo snaphu -f Phase_VV_05Dec2014_05Apr2017.snaphu.img 1721
[sudo] password for compName:
snaphu v1.4.2
unrecognized configuration parameter 's��r�?Y��?���?|����' (Phase_VV_05Dec2014_05Apr2017.snaphu.img:5666)
Can anyone please help to correct me.
Thanks
Thank you…
amylauraparker - May '16
"I did have similar issues with this and on another forum found that the segmentation fault is likely due to the log file created by SNAPHU. In the snaphu.conf file comment out the log file line with a # and that should fix the problem"
#LOGFILE… in the snaphu.conf file is the solution. Now it is running. Great… Thanks again.
Have fun
Are u using a manual for doing SNAPHU or not?
Can anyone comment on the output. Am I correctly generated results or the visual expression giving any bad indication ??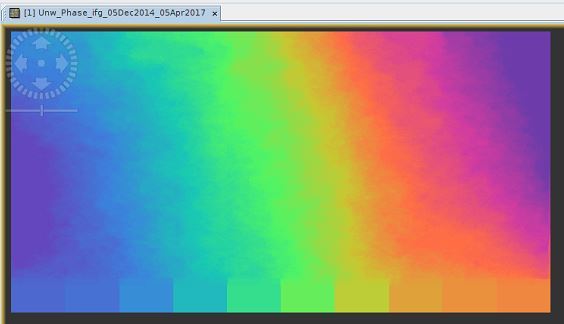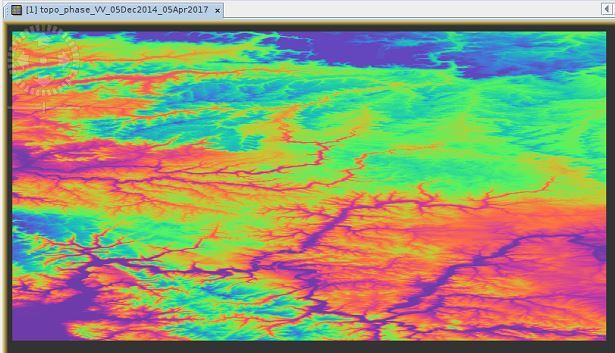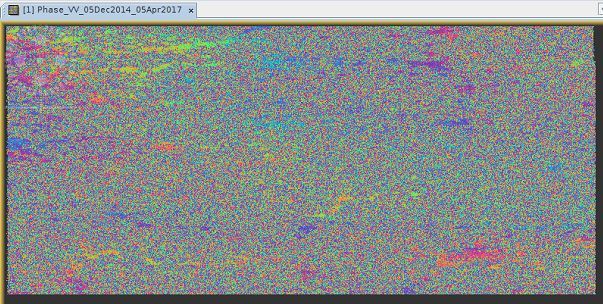 hi, im following stripmap tutorial and im facing problem to unwrapping phase using snaphu in virtual linux. i did the step but when i checked the folder, there is no /vmshare/data/target_sanphu/ only /mnt/hgfs/ in file system. then i cant run the snaphu.conf even i made gedit snaphu.conf & in my /home/sar/ and copy paste the command to call snaphu


The tutorial dates back from a time when snaphu was only working on Linux and you had to use a virtual environment. In the meanwhile, you can download a windows executable here so you no longer need the virtual machine: http://step.esa.int/main/third-party-plugins-2/snaphu/
I'm a windows user. I'm this step at now. How should I proceed? Should I use a virtual machine? Would you help me, please? Thanking you in advance.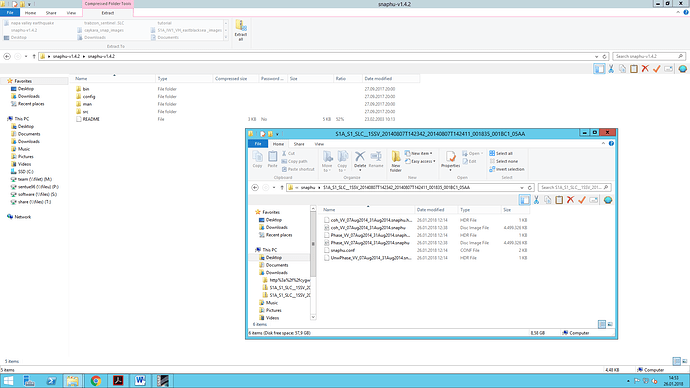 @ABraun Thank you for your reply. I applied everything as in video. Unfortunately, I received this error again. =(
"$ Is
-bash: Is: command not found"
Even so I continued. The process has begun. But I'm sure this is not true step.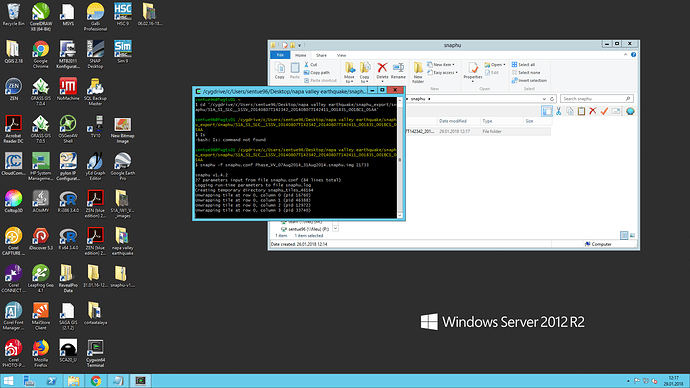 ls is not important, it just shows you the files inside the directory.
What you show in your screenshot is exactly what is needed. snaphu will process all tiles and tell you when it is finished.
Ok then I will just wait for the process to be completed. =) Thank you so much for your help.
I have been waiting for the completion of the process since a day. I have received this error several times. I repeat the process, but the same problem. What should I do? Could you help me please?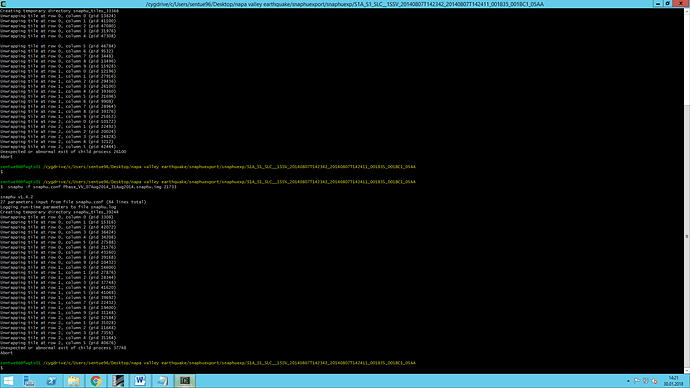 your processed raster is quite large. Try using only a subset to see if it generally works. Maybe snaphu experienced a timeout because of the file size.
I wanted to apply the sample dataset to learn. "Napa Valley Earthquake."
I already applied that step. it can be "spatial subset from view" step. As you say it takes a long time and it gives an error at the end.
In this case, is there a way to keep working? I'm sorry to ask so many questions.