I ran some comparison tests on the S1TBX radiometric terrain flattening, using an IW GRDH image from the region SW of Vienna, Austria. I flattened the backscatter first using my own software using (a) SRTM3, and (b) SRTM1, and compared it with backscatter retrieved after flattening and terrain correction in SNAP (Cal_TF_TC).
It is worth noting the SNAP v2 beta 06 cannot be used for such testing, as the radiometric calibration is off by over 30dB in general. I therefore had to use SNAP v2 beta 05 for the test. SNAP does not support multilooking before terrain flattening, so the flattening was performed on the full resolution image: Cal->TF->TC.
In comparison to the S1TBX result, we noticed the following differences:
striping in S1TBX flattened backscatter (at very high zoom levels)

very different backscatter in regions with strong slopes: S1TBX often appears to overcompensate on foreslopes and under-"brighten" on backslopes. These are differences of over ±5dB, so very significant

an overall trend of a few dB across range, with S1TBX being relatively darker towards far range.

The IW2/IW3 subswath boundary, not visible in a simple GTC becomes (faintly) visible in the flattened images. It is due to approximations within the S1IPF still being used when this image was procesed in March 2015. More recent versions of the S1IPF (already being used in production) should be less susceptible to generating such artefacts.
I wondered what terrain-flattening method is implemented in SNAP. The online docs state http://step.esa.int/main/doc/:
SNAP and Sentinel Toolboxes provide integrated help directly from the software itself.
After searching for a while in the software's help, I noticed a reference to my paper (see above).
This operator removes the radiometric variability associated with topography using the terrain flattening method proposed by Small [1] while leaving the radiometric variability associated with land cover.
Reference:
[1] David Small, "Flattening Gamma: Radiometric Terrain Correction for SAR imagery", IEEE Transaction on Geoscience and Remote Sensing, Vol. 48, No. 8, August 2011
But given the differences between the results (see below), it would appear that there are large differences between the respective software implementations. That raises the question: what is the algorithm description that best describes what is actually being run in SNAP?
---
RTC using method of Small, TGRS 2011:

Cal_TF_TC output by SNAP v2 beta 05 (beta 06 not operative for applications requiring radiometric calibration):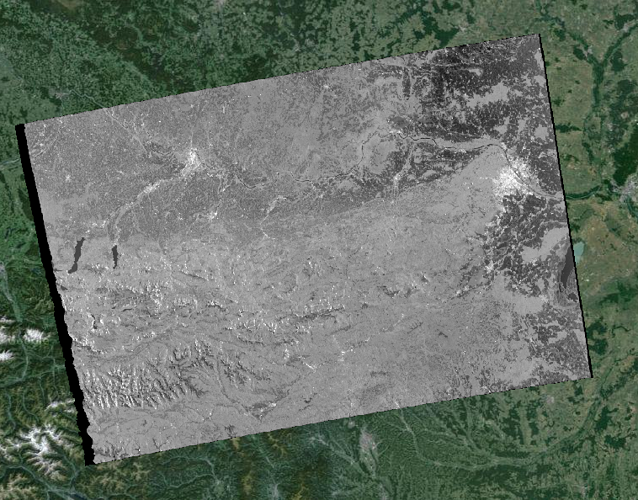 ---
GTC:

N.B. all 3 images have identical radiometric scales: -26dB (black) to -1dB (white).