Guys,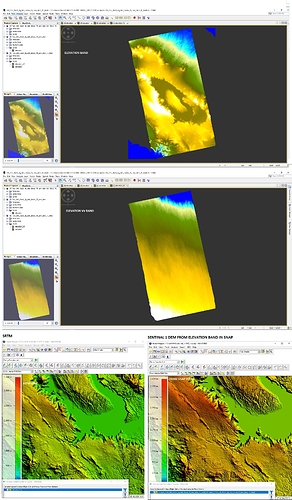 I'm newbie on Sentinel-1 and Lately I was struggle to produce a DEM from Sentinel 1 using Interferometric process in SNAP…
I have passed all step from the tutorial and power point training step by step documentation created by Michael Foumelis "Sentinel 1 TOPS Interferometry", and I was succeed produced a DEM using SNAP.
but when I'm compared the data from Sentinel-1 Insar result with SRTM 3 Arc, the result was exactly the same, there is no difference between Sentinel-1 Insar and SRTM
See my comparison preview in pic above bottom part:
My question are ?
Do the DEM file in the SNAP "Elevation" band that I produced is really data from Interferometric or just another copy of SRTM?
Which one should I export Elevation_VV Band or Elevation Band to produce a DEM??
My Elevation_VV preview is something like in the preview above second from above:
Is my Elevation_VV correct? what I'm missing?
What is the Maximum DEM Resolution can produced by Sentinel-1 with Sensor Mode IW.
Please Help

Thanks a lot guys
Arya Wardhana
Indonesia