Hello everyone,
I am trying to estimate building subsidence for the area of Ho Chi Minh in Vietnam. I have used 6 interferograms (between June 2016 and June 2017) where I stacked them and produced the subsidence map.
Firstly, I produced displacement in LOS geometry using the following equation. unwrapped (phase * wavelength) / (-4 * PI) (or 'phase to displacement' from SNAP where the results are the same). I also calculated the vertical displacement using the following equation: (unwrapped phase * wavelength) / (-4 * PI * rad(cos(incidence angle))). The results are shown below.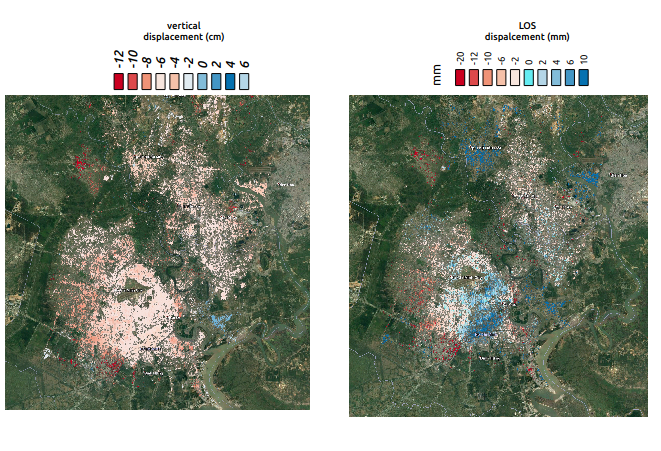 We can see, on the felt, we have the vertical displacement in cm and on the right the LOS displacement in mm. We notice that there is a big difference in values between vertical and LOS displacement. The results of vertical displacement look better (we do not have uplift in the main city, just subsidence, as expected) while in LOS, we see that the vertical displacement values ( from the image on the left) became positive which indicates an uplift (blue values).
I do not understand why the results look different between LOS and vertical displacement. I expected to get the same results in both vertical and LOS geometry.
Does anyone have an explanation about this big difference in results?
Thanks in advance