Hej,
I have exported a Sentinel-3 OCLI RGB view as GeoTiff using 'export view as image' as described in this EUMETSAT tutorial (also featured on the STEP tutorial page). When I open it in ArcGIS and add a basemap layer, the basemap and OCLI image do not align.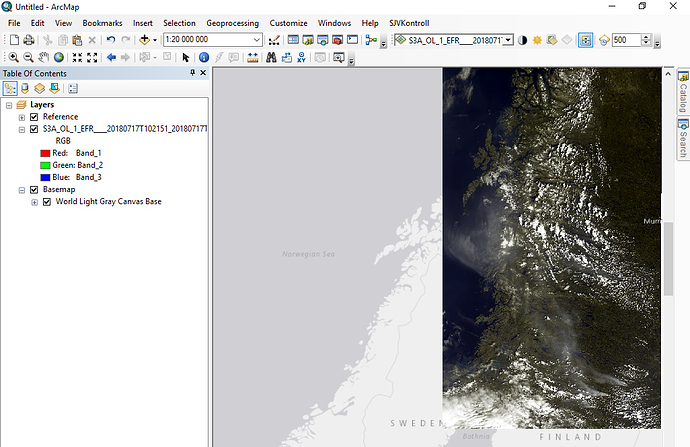 I wonder, what I'm doing wrong or whether there are issues with the georeferencing coming with the GeoTiff. Is plainly exporting as GeoTiff maybe not enough, and I first need to reproject as suggested in that topic?
I'm quite an ArcGIS newbie (and my georeferencing/geodatum/projection knowledge is fairly rusty as well), so I admit that my mistake might as well be there. So far, I had the impression though, that if data comes with proper georeference info, ArcGIS takes care of it and adjusts projection and presentation accordingly on the fly. And I can indeed change the projection and the presentation of both image and basemap is adapted. Just, the misalignment remains.
Anyone with some hints or suggestions?