Dear colleagues,
We are trying to install the sen2cor processor in SNAP in order to perform atmospheric corrections in S2 LC1 products.
We first tried to directly install the plug-in through the SNAP/tools/plugins, but, as it is mentioned in some similar posts in this forum, it is required to first install the sen2cor processor independently from SNAP. Therefore we followed the procedure described in the Telespazio Vega User Manual, p. 29. Using a Win-7 64bit computer, we did the following:
Install of Anaconda2 - 2.4.1v 64 bit (2.7 Python); all install options as default (e.g. in "Advanced options", we accepted both options): successful installation.

Install of sen2cor via the unzipped folder "sen2cor-2.0.6", which was opened in the command prompt to perform the call python setup.py install. At the end of the installation, as suggested by the manual, we kept the home directory as default.
2.1) The installation of sen2cor looks successfully complete. However, looks like the installation have failed in recognize the path for the environments _DATA, _HOME and _BIN (see attached image below).
2.2.) Despite the setting environment message above, we successfully tested the processor via the call 2A_Process --help, as indicated by the manual (see attached image below):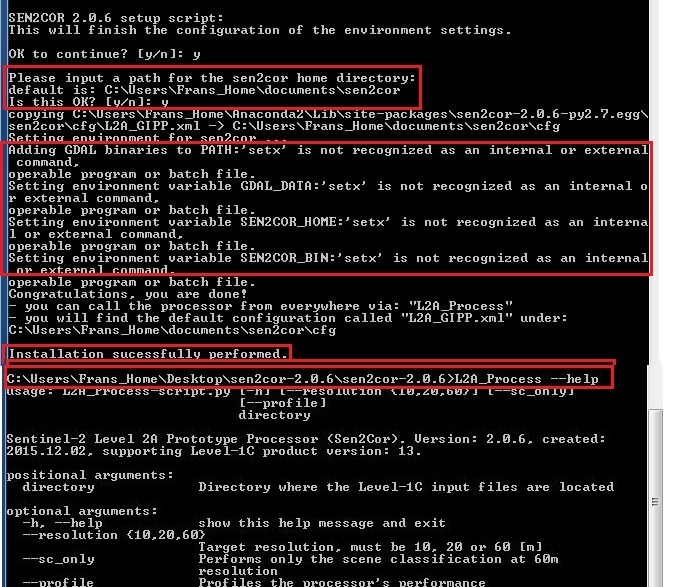 Once we "successfully" installed sen2cor, we downloaded the plug-in from SNAP/tools/plugins and tested it with a S2 LC1 product. We got this error message:

Before executing the tool, please correct the errors below:
Variable SEN2COR_HOME is not set
Variable SEN2COR_BIN is not set
Which automatically opens a sen2cor window with adjustable parameters for the system variables, in which the value for the keys HOME and BIN are empty, while the value for the PYTHON_BIN is "python_exe".
Do you have any comment of how to solve this issue and therefore install the sen2cor environments properly? We are new to S2 toolbox and we are not python experts. We think there might be an error in the ways the paths are located and tracked, but perhaps is something far more simple!
Thank you!