Hello,
I have some questions about radiometric calibration using various satellite images.
Calibration to sigma0 is conducted well from various satellite images such as S-1, K-5, ICEYE, etc.
Whenever I tried to calibrate to beta0 or gamma0, there were some problems.
Using S-1, everything is fine.
However, when I used other satellite images, the target band(beta or gamma) was created to the virtual band like the following picture.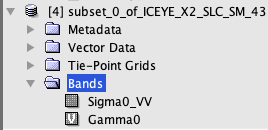 So, I couldn't save the target band immediately.
Is it the only solution to save virtual band to real(?) band via band math?
Or, how can I save immediately the gamma0 or beta0 band?
I prefer to use snappy than the GUI program.
Thank you.