Dear ABraun
@ shishir.manandhar
But I think I figured this out. So basically I terrain corrected 1)Displacement 2)Unwrapped phase.
And then I collocated them (stacked), and then I applied valid pixel expression of coh>0.4 on the displacement. And I believe the result is good. What are your thoughts on this @ABraun?
I followed above steps for 5 interferograms.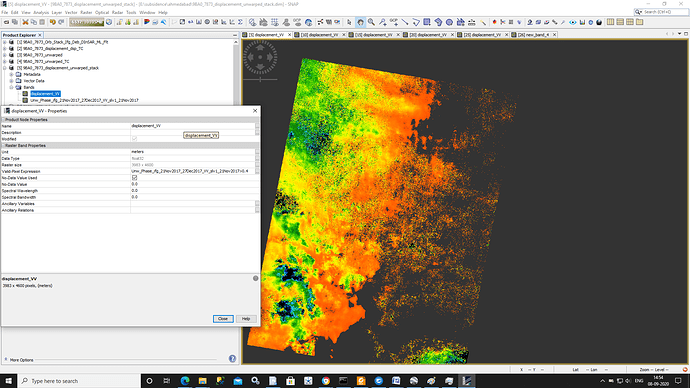 Here i given as shown in above figure.
Valid pixel validation : Unw_Phase_ifg_21Nov2017_27Dec2017_VV_slv1_21Nov2017>0.4
Is it correct for assigning the coherence value >0.4 ?
Then i created for all 5 interferograms in same way, finally stacked.
i want to know the displacement for that i added this displacements using Band Math, using this below command in edit expression.
($26.displacement_VV + $26.displacement_VV_slv2_27Dec2017 + $26.displacement_VV_slv4_20Jan2018 + $26.displacement_VV_slv6_25Feb2018 + $26.displacement_VV_slv8_21Mar2018)/5
but I'm getting this below error, please check it once.