EDIT: Sorry if this post seems longer than necessary, I have just tried to be comprehensive to help others with the same issue!
Hi,
I am trying to use DInSAR based on Sentinel 1 images to look at the displacements of rock glaciers in Kyrgyzstan. I've been reading about the methods as much as possible. I read on this forum and in the ESA InSAR principles that the perpendicular baseline should be less than 300 m, for me they are all under 110 m.

From papers that have addressed similar topics such as this and this the temporal baseline is typically around 45 days, but in some cases around 90 days or greater.
Based on this I have tried using the following InSAR pairs:
16/08/2016 - 11/08/2017 (360 days)
05/06/2016 - 09/09/2016 (96 days)
18/07/2017 - 23/08/2017 (36 days)
06/07/2017 - 23/08/2017 (48 days)
23/07/2016 - 09/09/2016 (48 days)
I then used the following methods, batching 1- 7:
Deburst
Subset to a very small area for testing
Compute Interferogram
Topographic Phase Removal
Goldstein Phase Filtering
Multilook
Snaphu Export
Unwrap
Snaphu Import
Phase to Displacement
Terrain Correction
All but one of the unwrapped phases show little data, for example this is the unwrapped phase between the 23/07/2016 and 09/09/2016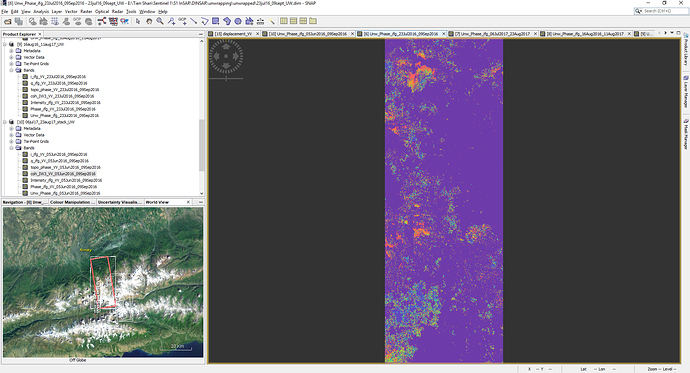 Here is the most complete unwrapped phase (from 06/07/2016 - 23/08/2017)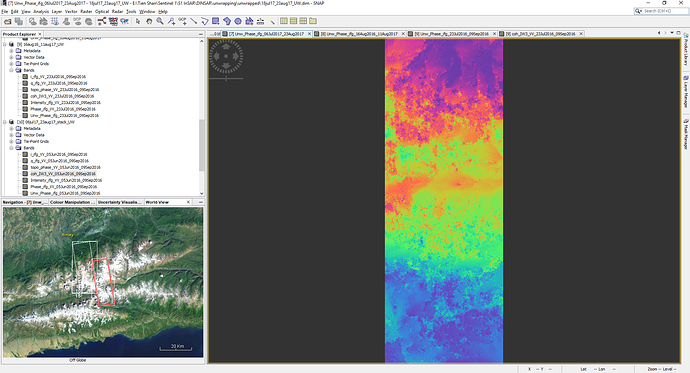 Which translates into the following displacements: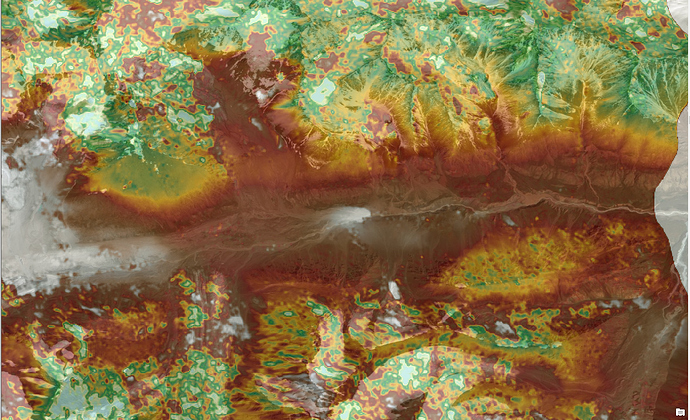 While it would be supposed that the valley bottom would be most inactive, I was wondering if what I am seeing instead is elements of the topography still in the data?
So I have the following questions:
do these unwrapped phases look OK, or has something gone wrong?
are there any settings that should be tweaked in the methods? (since I just used the default values)
Many thanks