Dear all,
I am trying to create multitemporal 10-day cloudy-free LAI composite using time-coincident images from Sentinel-2 to Sentinel-3. I am trying to perform that task using gpt graph. So far I masked LAI images with their corresponding cloud masks. The next step would be to create a composite considering the closest cloud-free S2 pixels to Sentinel-3 overpass. I was trying to use Band math tool to accomplish that. Here is an example for 4 LAI images when I used the following expression:
lai_new_20210613!=0? lai_new_20210613:
(lai_new_20210613==0 && lai_new_20210710!=0? lai_new_20210710:
(lai_new_20210613==0 && lai_new_20210710==0 && lai_new_20210720!=0? lai_new_20210720:
lai_new_20210723))

where 0 indicates cloud mask
Unfortunately, if one of the images has value of 0, the conditional statement gives me NaN value as shown below (m8 indicates the final output). Do you know how to write the statement properly? Or maybe there is another solution?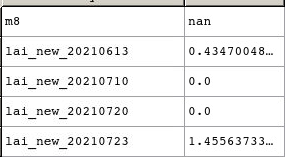 Thank you!