Dear SNAP-users,
I'm trying to detect Chl-a concentration in small lake. I chose 2 atmospheric correction for my study (C2RCC and C2X). C2RCC was performed perfect. But after doing similar steps with C2RCC in C2X processor, the difference of the min. and max values were too high and min. values were minus. Now I would like to change my processing chain to do it right.
-Preprocessing:
1.Resample
2.IdePix
3.Subset
3.Reprojection.
-Atmospheric correction -C2X
1.Salinity, Temp, Ozone, Air pressure, Elevation will be set
2.Output -normalized water leaving reflectances and Output -irradiance attenuation coefficients and Output -uncertainties will be chosen
3. other factors will be remained as default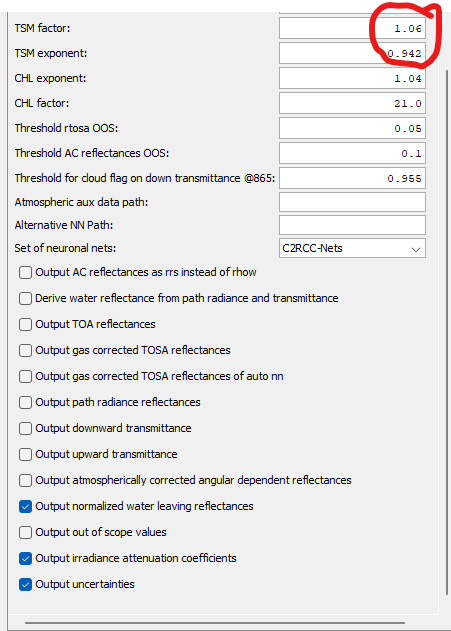 -BandMath
in BandMath Valid_Pe and rhown_B4 and rhown_B5 will be used

Do you see there any false step? Or could you suggest some method to process C2X in right way?
Mr.Peters wrote me " consider the flags which are created by C2RCC. Especially the invalid flag.". But I didn't understand how I consider it. Actually I didn't understand where I use it. and for which propose, however I searched about it in google.
I look forward to hear from you