Hi all,
I'm trying to compute a differential interferogram in SNAP version 5.0 to measure surface deformation after a flooding, using one Sentinel-1 SLC image from before the flood and one after.
I'm using an Windows 10 Laptop, 64-bit with 16 GB RAM and Intel i7 core.
Now the question is, when I use the graph-builder and "TOPSAR Coreg Interferogram"-graph for the first step I am asked to load the two images.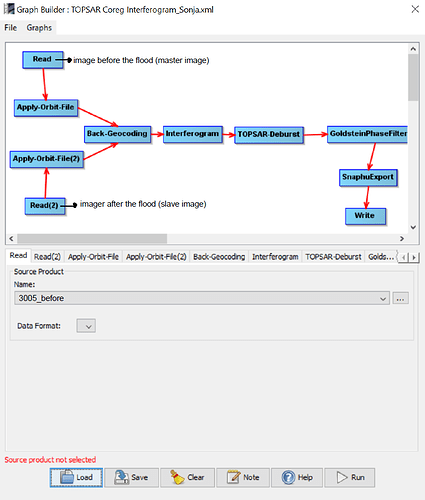 Logically, I would have thought, I use the image before the flood as the first input (master) and the image after the flood as second input (slave).
After I computed everything I need for the measurement of displacements (Read -> Apply Orbit File -> Back-Geocoding -> Interferogram -> TOPSAR Deburst -> TopoPhaseRemoval -> 2x Goldstein-Filtering -> SNAPHU Export -> all the stuff in SNAPHU -> SNAPHU Import -> Phase to displacement) I get quite a nice picture with everything I wanted, except that when I compared it to an orthophotograph, my displacements were just the exact contrary of what really happend

(like when there had been any uplift, my displacement map would show a subsidence and vice versa.)
I then tried to first load the file AFTER the flood at the beginning and in second place the one from before and then it worked and the displacements are displayed correctly now.
Can anyone tell me, if that is normal? Maybe I've just got a logical error in my mind, but should not the image aquired BEFORE an event be the FIRST image to be read as I have done in the first try? And if this is the case, can anyone tell me, why my deformations are just the exact contrary of what happend?

Thanks already in advance for your help
Mia