Hi everyone,
The common steps for the generation of an (Differential) interferogram are :
S1-Tops Coregistration
Interferogram formation
In this last step, it is possible to output the coherence (which is the default option).
You know that single-look interferograms are somewhat noisy and a multilook and/or phase filtering is not mandatory but strongly advised before the unwrapping. The improvement in the phase pattern is largely significant, looking at the fringe pattern. Authors studied the improvement in the coherence after multilooking / filtering.
Here's a self-speaking example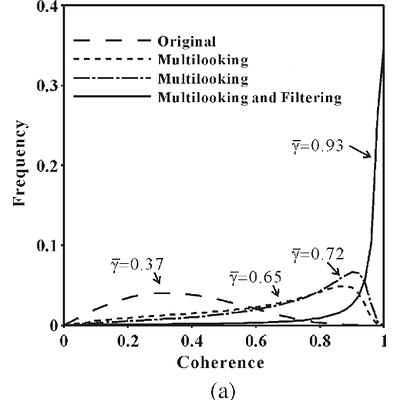 However, SNAP does not enable to recompute the coherence. If you multilook your interferogram, the coherence is simply resampled thus the histogram is the (almost) same. Because the interferogram in SNAP does not contain the master and the slave's amplitudes, it is neither possible to "manually" recompute the coherence.
It would be a great addition to let the user recompute a post processed interferogram.
Thanks for reading,
Quentin