I would like to create an RGB image from after selecting 3 bands. Using snappy I should find the right elements of the API to do it but it is hard because there are various methods and classes related to the RGB images. I tried to find some information from the desktop SNAP but I had no success…
This is in detail what I need to do:
create an RGB image from 3 selected bands( I can select and extract the 3 bands)
save the image as a .png or .jpg format and visualize it properly.
I have tried this solution :
import snappy
jpy = snappy.jpy
from snappy import Product
from snappy import ProductIO
p = ProductIO.readProduct(file)
from snappy import ProductUtils
b2 = p.getBand('radiance_2')
b3 = p.getBand('radiance_3')
b4 = p.getBand('radiance_4')
from snappy import ProgressMonitor
info = ProductUtils.createImageInfo([b4,b3,b2], True, ProgressMonitor.NULL)
image = ProductUtils.createRgbImage([b4,b3,b2],info, ProgressMonitor.NULL)
File = jpy.get_type('java.io.File')
savefile = File('C:\Users\Antonio\test_image_RGB.png')
looks = jpy.get_type('org.esa.snap.core.datamodel.quicklooks.QuicklookGenerator')
looks.writeImage(image,savefile)
and this is the result: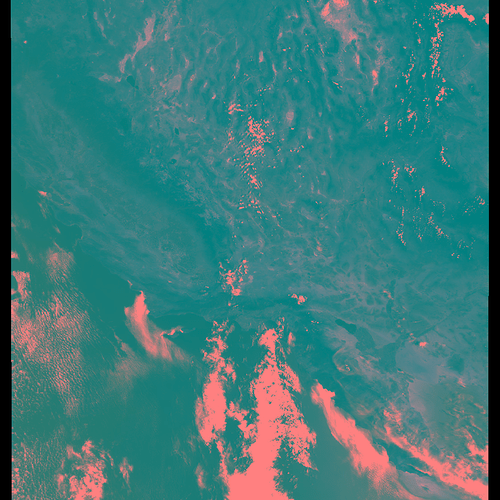 But with my selection of bands for a MERIS product the RGB result is totally different in SNAP, what is the problem in the code?