Hi guys,
I would like to inform you about two strange artifacts are arising when using the DEM-assisted operator. I run the operator using gpt with these options:
-PmaskOutAreaWithoutElevation='false' -PtileExtensionPercent=100 -PdemResamplingMethod='BICUBIC_INTERPOLATION' -PresamplingType='BICUBIC_INTERPOLATION'
the images are three GRD S1 assembled from track 117 acquired in May 2015. I applied precise orbit, border removal (custom not the one implemented in snap), thermal noise correction and calibration then after the assembly i try to corregister. The master is the largest image.
Even I set "not to mask Area Without Elevation" the sea is masked out.
I got these strange artifacts at the borders of the slave images even though the images are well aligned (before the coregistration the borders are set everywhere to 0).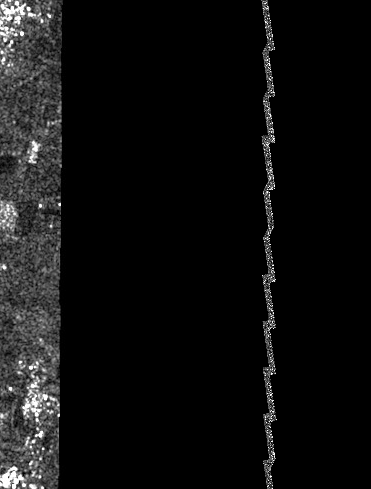 Moreover, if I use an external dem the process crash with this error:
Error: DEM-Assisted-Coregistration: computeSlavePixPos: java.lang.StackOverflowError