Dear Snap-Users,
I'm working to detect Chlorophyll-a concentration by using Sentinel 2 (L1C) images in small lake. I want to use 2 kind of atmospheric correction processor. C2RCC was performed perfect. But the processing of Sen2Cor has some problem. I divided the band value by 10000 as you suggest in many posts.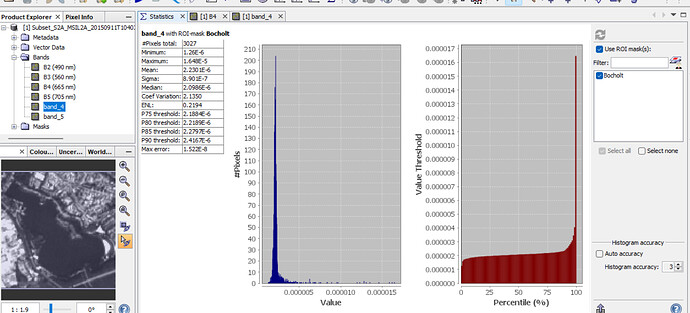 But the result was almost same and seems to wrong. The minimium value is minus and the difference between min and max value is too high.
In C2RCC atmospheric correction processor, min=31 and max=78. What I have to do? I'm using empirical algorithm (regretion with in-situ data) for detecting Chl-a concentration after Sen2Cor processing. I couldn't find my error. Please help me.
I'm looking forward to hear from you.
Best regards
Ganaa