I am loading sen2cor for use with SNAP and can't find this issue within previous posts.
conda -v = conda 4.2.9
I have anaconda installed and tried the update listed in the Sentinel-2 MSI – Level-2A Prototype Processor Installation and User Manual and then successfully installed Sen2Cor. However I get a win32 error.
DLL load failed: 1% is not a valid win32 application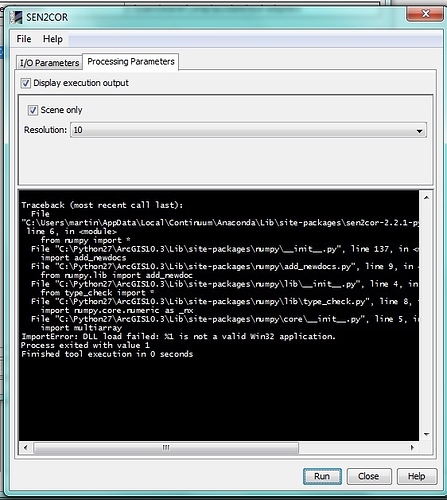 I also tried a new anaconda2 and sen2cor installation and get the same error. I assume I have a conflict with numpy from a separate folder/application, but don't know how to force sen2cor scripts to use a different python/numpy. I'm not keen to un-install numpy as its used in so many other scripts on the other application. Is there are known method to force sen2cor script to run from a specific version to remove the error I am seeing?
In SNAP my defaults for sen2cor are
SEN2COR_HOME - C:\Users…\sen2cor
SEN2COR_BIN - C:\Users…\Anaconda2\Lib\site-packages\sen2cor-2.2.1-py2.7.egg/sen2cor
PYTHON_BIN - C:\Users…\Anaconda2\python.exe