Hi, I am a beginner in RS. Do anyone know how to create a simple mathematical formula or equation for radar image that equivalent as NDVI value in optical image? my purpose is to identify healthy and unhealthy crop tree as nowadays NDVI is the best indicator to differentiate it. so, how with radar images, backscatter coefficient cannot use to differentiate healthy and unhealthy tree easily.
I have tried with my equation from regression analysis of NDVI and Backscatter Coefficient (as image below), but the result was not good and weird.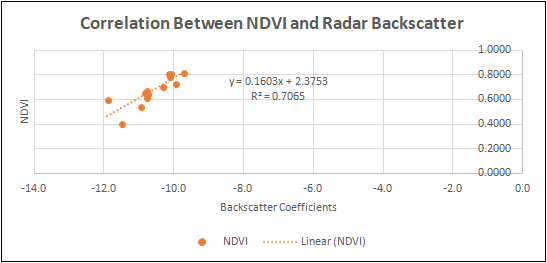 so, from the equation y=0.1603x+2.3753, I replace the x value with NDVI value (0.8175). I assume as Y is the predicted radar value that I looking for. In the bandmath i write as;
(b1-0.1603*0.8175)+2.3753
(b1-2.3753)/0.1603
3)(b1-2.3753)/0.1603*0.8175
** b1 is the sigma image of radar (VV)

**Y values was so weird.
Do anyone have some advice and good suggestion to help me get better result or correct way to achieve my purpose. thanks a lot.