I can subset the image using a shape file successfully when I do it manually using Land-Mask operator. I want to do automation for so many files so i tried to generate a graph for it but it showing an error.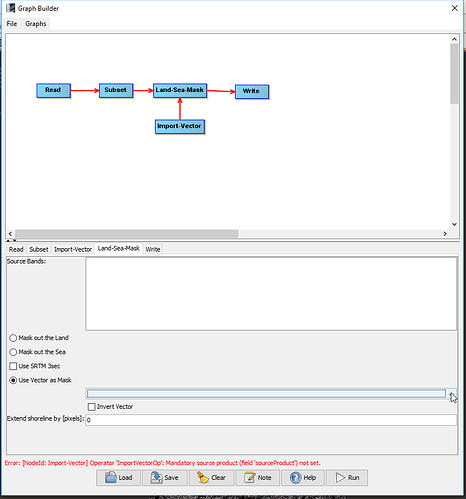 Then I change the source of the import vector.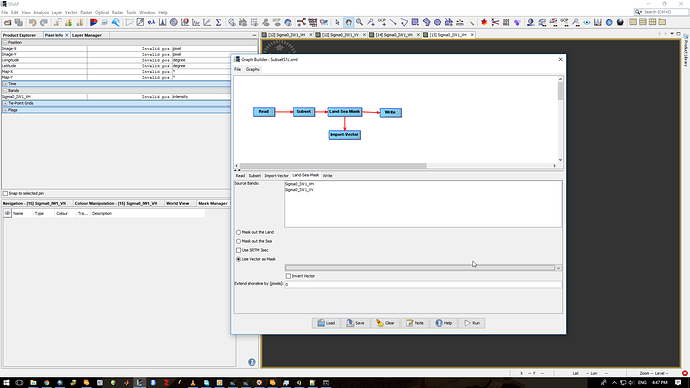 But the problem is i am not getting my shapefile in the dropdown menu. Also, I tried to edit the xml files manually by giving the shape file. i exucted the xml file from snap command line and its showin 90% done and an error message.
gpt E:\Try\SubsetS1c1.xml -t E:\Try\S1A_IW_SLC__1SDV_20150727T003129_20150727T003158_006989_0097BF_B5BA_Subset.dim E:\Try\S1A_IW_SLC__1SDV_20150727T003129_20150727T003158_006989_0097BF_B5BA.dim
INFO: org.esa.snap.python.gpf.PyOperatorSpi: Python operator 'S2RutOp' registered (Python module: 's2_rut', class: 'S2RutOp', root: 'C:\Users\SAIPLANNER\AppData\Roaming\SNAP\modules\org-esa-snap-snap-rut.jar')
INFO: org.esa.snap.core.gpf.operators.tooladapter.ToolAdapterIO: Initializing external tool adapters
Executing processing graph
INFO: org.hsqldb.persist.Logger: dataFileCache open start
90% done.
org.esa.snap.core.gpf.OperatorException
at org.esa.snap.core.gpf.graph.GraphProcessor$GPFImagingListener.errorOccurred(GraphProcessor.java:363)
at com.sun.media.jai.util.SunTileScheduler.sendExceptionToListener(SunTileScheduler.java:1646)
at com.sun.media.jai.util.SunTileScheduler.scheduleTile(SunTileScheduler.java:921)
at javax.media.jai.OpImage.getTile(OpImage.java:1129)
at javax.media.jai.PlanarImage.getData(PlanarImage.java:2085)
at com.bc.ceres.glevel.MultiLevelImage.getData(MultiLevelImage.java:64)
at org.esa.snap.core.gpf.internal.OperatorContext.getSourceTile(OperatorContext.java:407)
at org.esa.snap.core.gpf.internal.OperatorContext.getSourceTile(OperatorContext.java:393)
at org.esa.snap.core.gpf.internal.OperatorImage.computeRect(OperatorImage.java:73)
at javax.media.jai.SourcelessOpImage.computeTile(SourcelessOpImage.java:137)
at com.sun.media.jai.util.SunTileScheduler.scheduleTile(SunTileScheduler.java:904)
at javax.media.jai.OpImage.getTile(OpImage.java:1129)
at com.sun.media.jai.util.RequestJob.compute(SunTileScheduler.java:247)
at com.sun.media.jai.util.WorkerThread.run(SunTileScheduler.java:468)
Caused by: java.lang.NullPointerException
at org.esa.snap.core.jexp.TermTransformer.apply(TermTransformer.java:16)
at org.esa.snap.core.jexp.AbstractTermTransformer.visit(AbstractTermTransformer.java:49)
at org.esa.snap.core.jexp.AbstractTermTransformer.visit(AbstractTermTransformer.java:9)
at org.esa.snap.core.jexp.Term$Cond.accept(Term.java:1118)
at org.esa.snap.core.jexp.TermTransformer.apply(TermTransformer.java:16)
at org.esa.snap.core.image.VirtualBandOpImage.computeTile(VirtualBandOpImage.java:230)
at com.sun.media.jai.util.SunTileScheduler.scheduleTile(SunTileScheduler.java:904)
… 11 more
Error: org.esa.snap.core.gpf.OperatorException<a class="attachment"
href="/uploads/default/original/2X/9/9bdba23d2a3f19746168768872e9e53b6d8543af.xml">SubsetS1c1.xml (2.7 KB)