When applying S-1 Thermal Noise Removal to a recent S1A_IW_GRDH image (e.g. S1A_IW_GRDH_1SDV_20221214T045155_20221214T045220_046323_058C41_4751) there is a gap between subswaths IW1 and IW2 in the noise removal pattern that results in a bright strip in the image after noise removal.
In the following screenshot you see (1) the VH channel of the untouched GRD product, (2) the VH channel after applying orbit file, removing border noise, removing thermal noise, calibration and conversion to decibel, (3) the NEP pattern of the removed noise.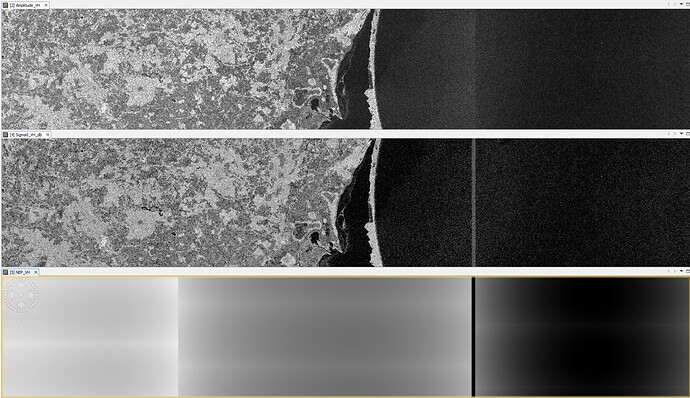 Any explanation as to why this is happening?
This doesn't seem to be a problem local to my machine, since the mosaics in EO browser also contain these strips: S1A IW on 2022-12-14 in EO browser.
A bit more investigation shows that this seems to affect scenes between 2022-03-23 and 2023-03-30 when IPF versions 3.51 and 3.52 where used.
The changelog of IPF 3.51 includes
Correction of the misalignment between the elevation antenna pattern and the annotated thermal noise vector
and the fix in IPF 3.61 seems to be listed as
Avoid missing data in range denoising vectors annotations for TOPS GRD products on long datatakes
Is this the cause? Can we "repair" the denoising vectors annotations for GRD products processed by IPF 3.5x?
Any feedback on this is appreciated.