I wanted to test the GeFolki coregistration and had a closer look at it. According to the homepage it is able to coregister two SAR products but also optical data with SAR data.
Two references:
SAR/SAR coregistration (interferometry, change detection,…):
Plyer, A., et al. (2015). A New Coregistration Algorithm for Recent Applications on Urban SAR Images. Geoscience and Remote Sensing Letters, IEEE, 12(11), 2198-2202.

Other cases (optics/SAR, optics/hyperspectral, LIDAR/SAR, etc.):
Brigot, G., et al. (2016) Adaptation and Evaluation of an optical flow method applied to co-registration of forest remote sensing images, accepted with modifications in IEEE Journal of Selected Topics in Applied Earth Observations and Remote Sensing, Volume: 9, Issue7, July 2016
It seems like a very useful tool and I like the idea that it is accessible in SNAP. But I had some problems: I tried to coregister two optical VHR scenes (blue band only for a first test), but the resulting product contains only one band (the one of the slave image):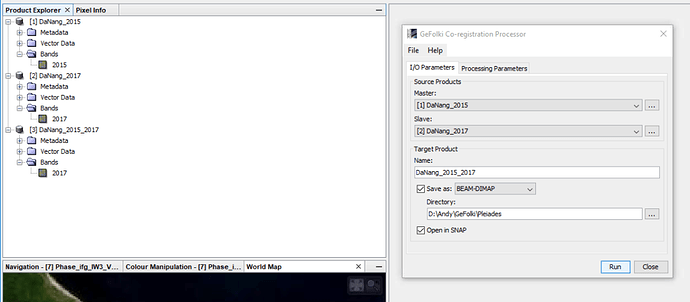 Has anyone made first experiences with this tool?