I kept a GLCM process in SNAP command line. I am using RISAT MRS data with 18-meter pixel size. the image size is 2266 x 2153. After more than 3 hrs of processing, there is no result. So, I close the snap command line window. The following are the details.
gpt E:\PHD\Thesis\NVI\BLR_Flood_Analysis\BLR_Flood_Process_ENVI\Sigma0_BLR\GLCM1\7011HH_S0_GLCM1_win.xml
INFO: org.esa.snap.python.gpf.PyOperatorSpi: Python operator 'S2RutOp' registered (Python module: 's2_rut', class: 'S2RutOp', root: 'C:\Users\SAIPLANNER\AppData\Roaming\SNAP\modules\org-esa-snap-snap-rut.jar')
INFO: org.esa.snap.core.gpf.operators.tooladapter.ToolAdapterIO: Initializing external tool adapters
Executing processing graph
INFO: org.hsqldb.persist.Logger: dataFileCache open start<a class="attachment"
href="/uploads/default/original/2X/c/c01869fc393b6a9f2a3087a931a5b84894c62170.xml">7011HH_S0_GLCM1_win.xml (1.9 KB)
Then I tried the same thing in SNAP GUI but there also the process is going on as shown below.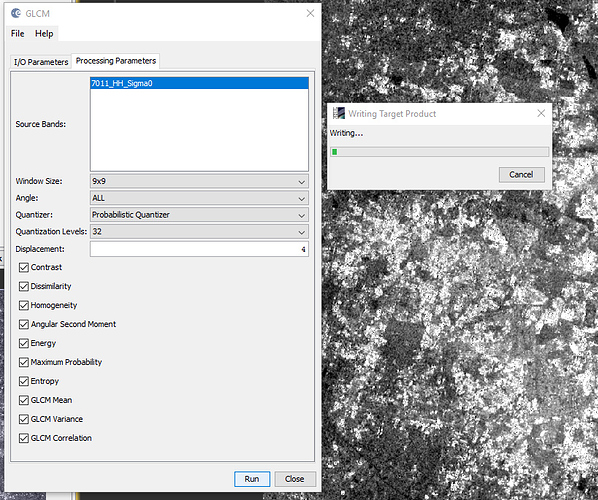 So, I wanted to know why it is taking so much time? and also what is the command to break the process in snap command line?