I was trying to repeat the processing steps in tutorial (http://seom.esa.int/cryotraining2016/files/S1_ice_speed_practical_v2.0.pdf) when stuck on page 54. Please see the following screenshot——I could not download the color palette file 'Ice_velocity.cpd' used in the tutorial.
Finding the default *.cpd file in installing path of C:\Users\lt.snap\auxdata\color_palettes, I try to define another one by texting.
However, the real problem is how to define the transparent part of color ramp(inside the blue circle in the screenshot)? Actually, I find no information concerning the defining rules for *.cpd text file in SNAP help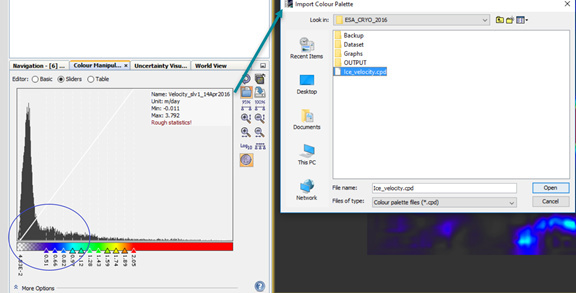 By the way, it already been raised as the suggestion in latter version by @FedericoF in Suggestions to improve SNAP. I also think SNAP can support *.cpt file as color palette, which is more commonly used in cartography community.