Dear colleagues,
I went through the RUS training HAZA03: Land subsidence (https://rus-copernicus.eu/portal/wp-content/uploads/library/education/training/HAZA03_Land-Subsidence_Mexico-city.pdf & https://www.youtube.com/watch?v=w6ilV74r2RQ) on my PC and the RUS virtual machine at the same time.
To my surprise, at the VM, no interferogram was generated, or more precisely, the file is generated but the phase band only consists of magenta pixels over the whole layer and intensity and coherence bands are empty.
So when trying to find the reason, I have reduced the graph only to preprocessing and found out that in the generated file, the slave layer is empty (see the screenshot).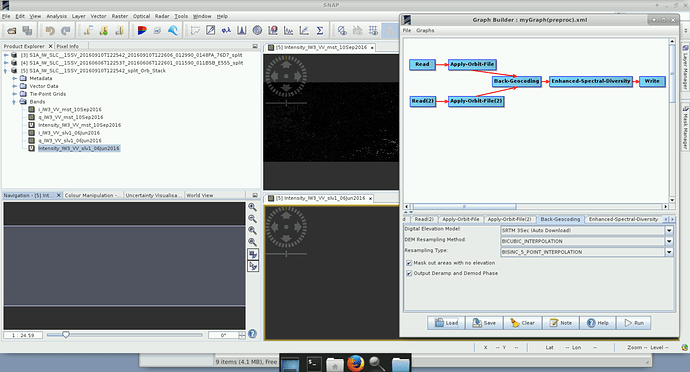 I have tried it about 4 times and it's always the same. While on my PC, with precisely the same files and the same graph, the interferogram is generated as supposed.
What could be the reason that it doesn't work well on my VM? In the webinar, they have also used a RUS VM.
Thank you very much in advance for any tips.