Hi,
I'm using SNAP 9 with the latest updates. I'm trying to use the Land-Sea-Mask operator using GPT but it does not work. It gives an error as seen below. But when I try it using the SNAP GUI/Graph it can work. Before this command I used the Import-Vector operator in GPT so the mask is available in the BEAM-DIMAP file.
Here is the image showing it is successful in SNAP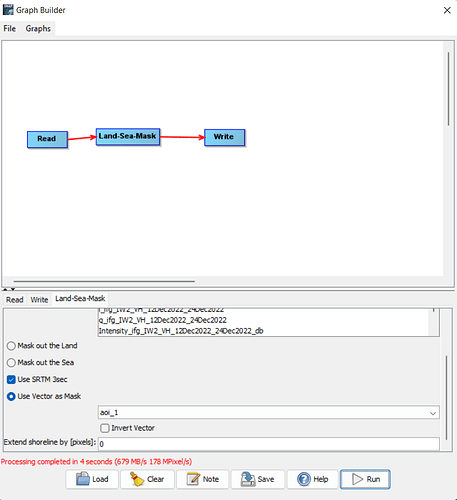 Am I doing something wrong with the equivalent command?
Command:
gpt Land-Sea-Mask -Pgeometry="aoi_1" -PinvertGeometry="false" -Ssource="D:\project1\20221212_20221224_Stack_Ifg_Deb_ML_Flt_Vec.dim" -t "D:\project1\20221212_20221224_Stack_Ifg_Deb_ML_Flt_Vec_Msk.dim"
Output:
INFO: org.esa.snap.core.gpf.operators.tooladapter.ToolAdapterIO: Initializing external tool adapters
INFO: org.esa.s2tbx.dataio.gdal.GDALVersion: GDAL not found on system. Internal GDAL 3.2.1 from distribution will be used. (f0)
INFO: org.esa.s2tbx.dataio.gdal.GDALVersion: Internal GDAL 3.2.1 set to be used by SNAP.
INFO: org.esa.snap.core.util.EngineVersionCheckActivator: Please check regularly for new updates for the best SNAP experience.
INFO: org.esa.s2tbx.dataio.gdal.GDALVersion: Internal GDAL 3.2.1 set to be used by SNAP.
INFO: org.hsqldb.persist.Logger: dataFileCache open start
Executing operator...
20%0
0
0
0
0
0
0
0
100%0
0
0
0
0
0
0
0
SEVERE: org.esa.snap.core.util.SystemUtils$SnapImagingListener: JAI error occurred: 'Problem occurs when computing a tile by the owner.' at com.sun.media.jai.util.SunTileScheduler@20b0443b
org.esa.snap.core.gpf.OperatorException: 0
        at org.esa.snap.engine_utilities.gpf.OperatorUtils.catchOperatorException(OperatorUtils.java:434)
        at org.esa.snap.raster.gpf.masks.CreateLandMaskOp.computeTileStack(CreateLandMaskOp.java:265)
        at org.esa.snap.core.gpf.internal.OperatorImageTileStack.computeRect(OperatorImageTileStack.java:122)
        at org.esa.snap.core.gpf.internal.OperatorImageTileStack.computeTile(OperatorImageTileStack.java:86)
        at com.sun.media.jai.util.SunTileScheduler.scheduleTile(Unknown Source)
        at javax.media.jai.OpImage.getTile(Unknown Source)
        at com.sun.media.jai.util.RequestJob.compute(Unknown Source)
        at com.sun.media.jai.util.WorkerThread.run(Unknown Source)
Caused by: java.lang.ArrayIndexOutOfBoundsException: 0
        at org.esa.snap.raster.gpf.masks.CreateLandMaskOp.computeTileStack(CreateLandMaskOp.java:185)
        ... 6 more

0
0
0
SEVERE: org.esa.snap.core.util.SystemUtils$SnapImagingListener: JAI error occurred: 'Problem occurs when computing a tile by the owner.' at com.sun.media.jai.util.SunTileScheduler@20b0443b
org.esa.snap.core.gpf.OperatorException: 0
        at org.esa.snap.engine_utilities.gpf.OperatorUtils.catchOperatorException(OperatorUtils.java:434)
        at org.esa.snap.raster.gpf.masks.CreateLandMaskOp.computeTileStack(CreateLandMaskOp.java:265)
        at org.esa.snap.core.gpf.internal.OperatorImageTileStack.computeRect(OperatorImageTileStack.java:122)
        at org.esa.snap.core.gpf.internal.OperatorImageTileStack.computeTile(OperatorImageTileStack.java:86)
        at com.sun.media.jai.util.SunTileScheduler.scheduleTile(Unknown Source)
        at javax.media.jai.OpImage.getTile(Unknown Source)
        at com.sun.media.jai.util.RequestJob.compute(Unknown Source)
        at com.sun.media.jai.util.WorkerThread.run(Unknown Source)
Caused by: java.lang.ArrayIndexOutOfBoundsException: 0
        at org.esa.snap.raster.gpf.masks.CreateLandMaskOp.computeTileStack(CreateLandMaskOp.java:185)
        ... 6 more

SEVERE: org.esa.snap.core.util.SystemUtils$SnapImagingListener: JAI error occurred: 'Problem occurs when computing a tile by the owner.' at com.sun.media.jai.util.SunTileScheduler@20b0443b
org.esa.snap.core.gpf.OperatorException: 0
        at org.esa.snap.engine_utilities.gpf.OperatorUtils.catchOperatorException(OperatorUtils.java:434)
        at org.esa.snap.raster.gpf.masks.CreateLandMaskOp.computeTileStack(CreateLandMaskOp.java:265)
        at org.esa.snap.core.gpf.internal.OperatorImageTileStack.computeRect(OperatorImageTileStack.java:122)
        at org.esa.snap.core.gpf.internal.OperatorImageTileStack.computeTile(OperatorImageTileStack.java:86)
        at com.sun.media.jai.util.SunTileScheduler.scheduleTile(Unknown Source)
        at javax.media.jai.OpImage.getTile(Unknown Source)
        at com.sun.media.jai.util.RequestJob.compute(Unknown Source)
        at com.sun.media.jai.util.WorkerThread.run(Unknown Source)
Caused by: java.lang.ArrayIndexOutOfBoundsException: 0
        at org.esa.snap.raster.gpf.masks.CreateLandMaskOp.computeTileStack(CreateLandMaskOp.java:185)
        ... 6 more

0
 done.
SEVERE: org.esa.snap.core.util.SystemUtils$SnapImagingListener: JAI error occurred: 'Problem occurs when computing a tile by the owner.' at com.sun.media.jai.util.SunTileScheduler@20b0443b
org.esa.snap.core.gpf.OperatorException: 0
        at org.esa.snap.engine_utilities.gpf.OperatorUtils.catchOperatorException(OperatorUtils.java:434)
        at org.esa.snap.raster.gpf.masks.CreateLandMaskOp.computeTileStack(CreateLandMaskOp.java:265)
        at org.esa.snap.core.gpf.internal.OperatorImageTileStack.computeRect(OperatorImageTileStack.java:122)
        at org.esa.snap.core.gpf.internal.OperatorImageTileStack.computeTile(OperatorImageTileStack.java:86)
        at com.sun.media.jai.util.SunTileScheduler.scheduleTile(Unknown Source)
        at javax.media.jai.OpImage.getTile(Unknown Source)
        at com.sun.media.jai.util.RequestJob.compute(Unknown Source)
        at com.sun.media.jai.util.WorkerThread.run(Unknown Source)
Caused by: java.lang.ArrayIndexOutOfBoundsException: 0
        at org.esa.snap.raster.gpf.masks.CreateLandMaskOp.computeTileStack(CreateLandMaskOp.java:185)
        ... 6 more

org.esa.snap.core.gpf.OperatorException: 0
        at org.esa.snap.core.gpf.internal.OperatorExecutor$GPFImagingListener.errorOccurred(OperatorExecutor.java:381)
        at com.sun.media.jai.util.SunTileScheduler.sendExceptionToListener(Unknown Source)
        at com.sun.media.jai.util.SunTileScheduler.scheduleTile(Unknown Source)
        at javax.media.jai.OpImage.getTile(Unknown Source)
        at com.sun.media.jai.util.RequestJob.compute(Unknown Source)
        at com.sun.media.jai.util.WorkerThread.run(Unknown Source)
Caused by: org.esa.snap.core.gpf.OperatorException: 0
        at org.esa.snap.engine_utilities.gpf.OperatorUtils.catchOperatorException(OperatorUtils.java:434)
        at org.esa.snap.raster.gpf.masks.CreateLandMaskOp.computeTileStack(CreateLandMaskOp.java:265)
        at org.esa.snap.core.gpf.internal.OperatorImageTileStack.computeRect(OperatorImageTileStack.java:122)
        at org.esa.snap.core.gpf.internal.OperatorImageTileStack.computeTile(OperatorImageTileStack.java:86)
        ... 4 more
Caused by: java.lang.ArrayIndexOutOfBoundsException: 0
        at org.esa.snap.raster.gpf.masks.CreateLandMaskOp.computeTileStack(CreateLandMaskOp.java:185)
        ... 6 more

Error: 0
SEVERE: org.esa.snap.core.util.SystemUtils$SnapImagingListener: JAI error occurred: 'Problem occurs when computing a tile by the owner.' at com.sun.media.jai.util.SunTileScheduler@20b0443b
org.esa.snap.core.gpf.OperatorException: 0
        at org.esa.snap.engine_utilities.gpf.OperatorUtils.catchOperatorException(OperatorUtils.java:434)
        at org.esa.snap.raster.gpf.masks.CreateLandMaskOp.computeTileStack(CreateLandMaskOp.java:265)
        at org.esa.snap.core.gpf.internal.OperatorImageTileStack.computeRect(OperatorImageTileStack.java:122)
        at org.esa.snap.core.gpf.internal.OperatorImageTileStack.computeTile(OperatorImageTileStack.java:86)
        at com.sun.media.jai.util.SunTileScheduler.scheduleTile(Unknown Source)
        at javax.media.jai.OpImage.getTile(Unknown Source)
        at com.sun.media.jai.util.RequestJob.compute(Unknown Source)
        at com.sun.media.jai.util.WorkerThread.run(Unknown Source)
Caused by: java.lang.ArrayIndexOutOfBoundsException: 0
        at org.esa.snap.raster.gpf.masks.CreateLandMaskOp.computeTileStack(CreateLandMaskOp.java:185)
        ... 6 more

SEVERE: org.esa.snap.core.util.SystemUtils$SnapImagingListener: JAI error occurred: 'Problem occurs when computing a tile by the owner.' at com.sun.media.jai.util.SunTileScheduler@20b0443b
org.esa.snap.core.gpf.OperatorException: 0
        at org.esa.snap.engine_utilities.gpf.OperatorUtils.catchOperatorException(OperatorUtils.java:434)
        at org.esa.snap.raster.gpf.masks.CreateLandMaskOp.computeTileStack(CreateLandMaskOp.java:265)
        at org.esa.snap.core.gpf.internal.OperatorImageTileStack.computeRect(OperatorImageTileStack.java:122)
        at org.esa.snap.core.gpf.internal.OperatorImageTileStack.computeTile(OperatorImageTileStack.java:86)
        at com.sun.media.jai.util.SunTileScheduler.scheduleTile(Unknown Source)
        at javax.media.jai.OpImage.getTile(Unknown Source)
        at com.sun.media.jai.util.RequestJob.compute(Unknown Source)
        at com.sun.media.jai.util.WorkerThread.run(Unknown Source)
Caused by: java.lang.ArrayIndexOutOfBoundsException: 0
        at org.esa.snap.raster.gpf.masks.CreateLandMaskOp.computeTileStack(CreateLandMaskOp.java:185)
        ... 6 more

SEVERE: org.esa.snap.core.util.SystemUtils$SnapImagingListener: JAI error occurred: 'Problem occurs when computing a tile by the owner.' at com.sun.media.jai.util.SunTileScheduler@20b0443b
org.esa.snap.core.gpf.OperatorException: 0
        at org.esa.snap.engine_utilities.gpf.OperatorUtils.catchOperatorException(OperatorUtils.java:434)
        at org.esa.snap.raster.gpf.masks.CreateLandMaskOp.computeTileStack(CreateLandMaskOp.java:265)
        at org.esa.snap.core.gpf.internal.OperatorImageTileStack.computeRect(OperatorImageTileStack.java:122)
        at org.esa.snap.core.gpf.internal.OperatorImageTileStack.computeTile(OperatorImageTileStack.java:86)
        at com.sun.media.jai.util.SunTileScheduler.scheduleTile(Unknown Source)
        at javax.media.jai.OpImage.getTile(Unknown Source)
        at com.sun.media.jai.util.RequestJob.compute(Unknown Source)
        at com.sun.media.jai.util.WorkerThread.run(Unknown Source)
Caused by: java.lang.ArrayIndexOutOfBoundsException: 0
        at org.esa.snap.raster.gpf.masks.CreateLandMaskOp.computeTileStack(CreateLandMaskOp.java:185)
        ... 6 more

SEVERE: org.esa.snap.core.util.SystemUtils$SnapImagingListener: JAI error occurred: 'Problem occurs when computing a tile by the owner.' at com.sun.media.jai.util.SunTileScheduler@20b0443b
org.esa.snap.core.gpf.OperatorException: 0
        at org.esa.snap.engine_utilities.gpf.OperatorUtils.catchOperatorException(OperatorUtils.java:434)
        at org.esa.snap.raster.gpf.masks.CreateLandMaskOp.computeTileStack(CreateLandMaskOp.java:265)
        at org.esa.snap.core.gpf.internal.OperatorImageTileStack.computeRect(OperatorImageTileStack.java:122)
        at org.esa.snap.core.gpf.internal.OperatorImageTileStack.computeTile(OperatorImageTileStack.java:86)
        at com.sun.media.jai.util.SunTileScheduler.scheduleTile(Unknown Source)
        at javax.media.jai.OpImage.getTile(Unknown Source)
        at com.sun.media.jai.util.RequestJob.compute(Unknown Source)
        at com.sun.media.jai.util.WorkerThread.run(Unknown Source)
Caused by: java.lang.ArrayIndexOutOfBoundsException: 0
        at org.esa.snap.raster.gpf.masks.CreateLandMaskOp.computeTileStack(CreateLandMaskOp.java:185)
        ... 6 more

SEVERE: org.esa.snap.core.util.SystemUtils$SnapImagingListener: JAI error occurred: 'Problem occurs when computing a tile by the owner.' at com.sun.media.jai.util.SunTileScheduler@20b0443b
org.esa.snap.core.gpf.OperatorException: 0
        at org.esa.snap.engine_utilities.gpf.OperatorUtils.catchOperatorException(OperatorUtils.java:434)
        at org.esa.snap.raster.gpf.masks.CreateLandMaskOp.computeTileStack(CreateLandMaskOp.java:265)
        at org.esa.snap.core.gpf.internal.OperatorImageTileStack.computeRect(OperatorImageTileStack.java:122)
        at org.esa.snap.core.gpf.internal.OperatorImageTileStack.computeTile(OperatorImageTileStack.java:86)
        at com.sun.media.jai.util.SunTileScheduler.scheduleTile(Unknown Source)
        at javax.media.jai.OpImage.getTile(Unknown Source)
        at com.sun.media.jai.util.RequestJob.compute(Unknown Source)
        at com.sun.media.jai.util.WorkerThread.run(Unknown Source)
Caused by: java.lang.ArrayIndexOutOfBoundsException: 0
        at org.esa.snap.raster.gpf.masks.CreateLandMaskOp.computeTileStack(CreateLandMaskOp.java:185)
        ... 6 more