Really having trouble understanding this one. We identified this issue as our gpt cli mosaic process (sill cannot get the gpt graph for this to work) was failing, so recreated directly in SNAP. Note, this does not occur with most of our other processes, but this date has been troublesome (and a few others, so likely the same underlying issue).
Using two adjacent S2 10m products that were previously subsetted with a gpt graph (not in SNAP, see the explanation after the image below), the resulting mosaic appears to be 300m and does not cover the entirety of the 2 subsets, nor the entirety of our AOI. Product 5 below is the mosaic (number reused from a previous mosaic task). Product 6 is is from our successful gpt graph subsetted version of S2A_MSIL1C_20220327T024551_N0400_R132_T50RNV_20220327T052037.SAFE, and product 7 is from S2A_MSIL1C_20220327T024551_N0400_R132_T50SNA_20220327T052037.SAFE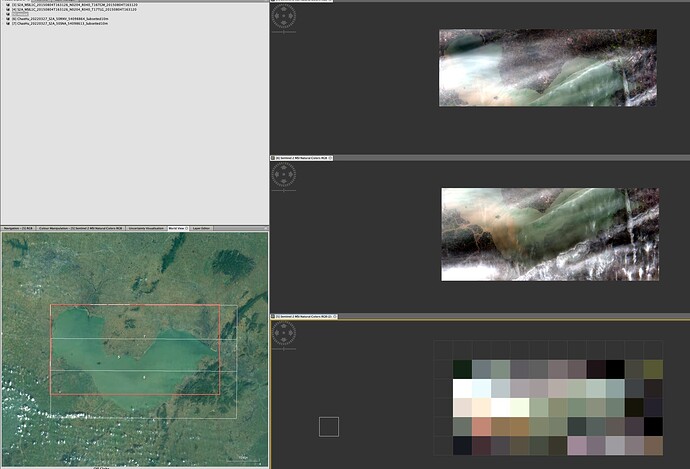 Furthermore, the two original S2 L1C products once subsetted to our AOI in SNAP using identical Geo Coordinates for bands B2, B3 and B4, cannot be displayed as RGB images, nor can they be mosaiced either.
When trying to display the RGB for either subset displays the error: "Referenced rasters are not of the same size". When trying to mosaic, the error "Product 'sourceProduct2' contains bands of different sizes." is displayed, which ought to be the case with both sourceProducts.
Product 1 properties: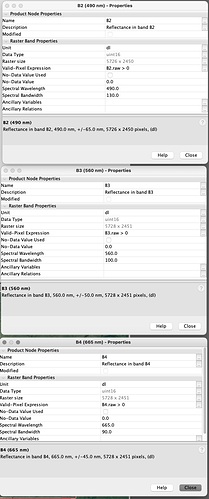 Product 2 properties: