Hi,
I have tried for a while to write to a netcdf file. First a tried pconvert, but after looking into the forum I see that I should use gpt Write. Still, I don't manage. I have tried the variant NetCDF4 and the NetCDF, and both CF and the BEAM.
I have the version 7 (it didn't work with the previous version either) and I have reinstalled version 7 several times and tried to delete old files to inhibit some conflicts there.
I hope you could help, it would be great to have my files in netcdf instead of dim-files.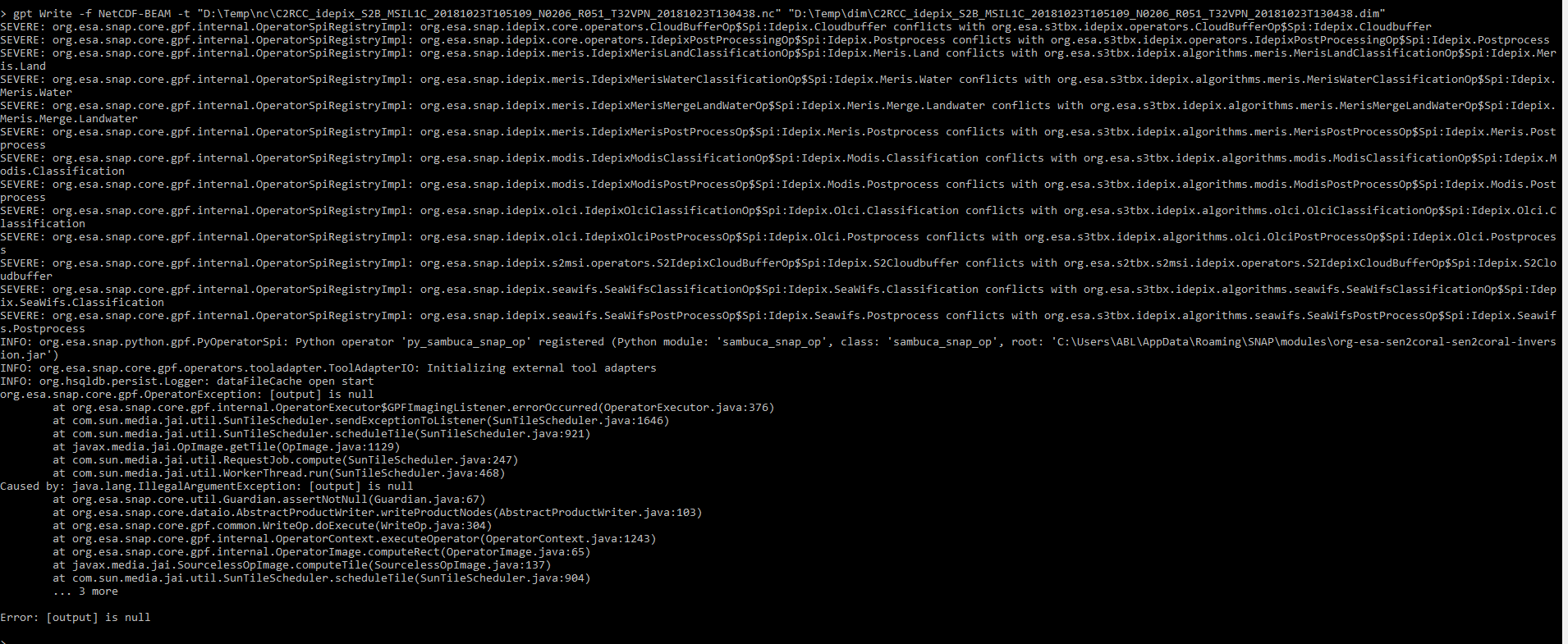 Best regards,
Anna B
gpt Write -f NetCDF-BEAM -t "D:\Temp\nc\C2RCC_idepix_S2B_MSIL1C_20181023T105109_N0206_R051_T32VPN_20181023T130438.nc" "D:\Temp\dim\C2RCC_idepix_S2B_MSIL1C_20181023T105109_N0206_R051_T32VPN_20181023T130438.dim"
SEVERE: org.esa.snap.core.gpf.internal.OperatorSpiRegistryImpl: org.esa.snap.idepix.core.operators.CloudBufferOp$Spi:Idepix.Cloudbuffer conflicts with org.esa.s3tbx.idepix.operators.CloudBufferOp$Spi:Idepix.Cloudbuffer
SEVERE: org.esa.snap.core.gpf.internal.OperatorSpiRegistryImpl: org.esa.snap.idepix.core.operators.IdepixPostProcessingOp$Spi:Idepix.Postprocess conflicts with org.esa.s3tbx.idepix.operators.IdepixPostProcessingOp$Spi:Idepix.Postprocess
SEVERE: org.esa.snap.core.gpf.internal.OperatorSpiRegistryImpl: org.esa.snap.idepix.meris.IdepixMerisLandClassificationOp$Spi:Idepix.Meris.Land conflicts with org.esa.s3tbx.idepix.algorithms.meris.MerisLandClassificationOp$Spi:Idepix.Meris.Land
SEVERE: org.esa.snap.core.gpf.internal.OperatorSpiRegistryImpl: org.esa.snap.idepix.meris.IdepixMerisWaterClassificationOp$Spi:Idepix.Meris.Water conflicts with org.esa.s3tbx.idepix.algorithms.meris.MerisWaterClassificationOp$Spi:Idepix.Meris.Water
SEVERE: org.esa.snap.core.gpf.internal.OperatorSpiRegistryImpl: org.esa.snap.idepix.meris.IdepixMerisMergeLandWaterOp$Spi:Idepix.Meris.Merge.Landwater conflicts with org.esa.s3tbx.idepix.algorithms.meris.MerisMergeLandWaterOp$Spi:Idepix.Meris.Merge.Landwater
SEVERE: org.esa.snap.core.gpf.internal.OperatorSpiRegistryImpl: org.esa.snap.idepix.meris.IdepixMerisPostProcessOp$Spi:Idepix.Meris.Postprocess conflicts with org.esa.s3tbx.idepix.algorithms.meris.MerisPostProcessOp$Spi:Idepix.Meris.Postprocess
SEVERE: org.esa.snap.core.gpf.internal.OperatorSpiRegistryImpl: org.esa.snap.idepix.modis.IdepixModisClassificationOp$Spi:Idepix.Modis.Classification conflicts with org.esa.s3tbx.idepix.algorithms.modis.ModisClassificationOp$Spi:Idepix.Modis.Classification
SEVERE: org.esa.snap.core.gpf.internal.OperatorSpiRegistryImpl: org.esa.snap.idepix.modis.IdepixModisPostProcessOp$Spi:Idepix.Modis.Postprocess conflicts with org.esa.s3tbx.idepix.algorithms.modis.ModisPostProcessOp$Spi:Idepix.Modis.Postprocess
SEVERE: org.esa.snap.core.gpf.internal.OperatorSpiRegistryImpl: org.esa.snap.idepix.olci.IdepixOlciClassificationOp$Spi:Idepix.Olci.Classification conflicts with org.esa.s3tbx.idepix.algorithms.olci.OlciClassificationOp$Spi:Idepix.Olci.Classification
SEVERE: org.esa.snap.core.gpf.internal.OperatorSpiRegistryImpl: org.esa.snap.idepix.olci.IdepixOlciPostProcessOp$Spi:Idepix.Olci.Postprocess conflicts with org.esa.s3tbx.idepix.algorithms.olci.OlciPostProcessOp$Spi:Idepix.Olci.Postprocess
SEVERE: org.esa.snap.core.gpf.internal.OperatorSpiRegistryImpl: org.esa.snap.idepix.s2msi.operators.S2IdepixCloudBufferOp$Spi:Idepix.S2Cloudbuffer conflicts with org.esa.s2tbx.s2msi.idepix.operators.S2IdepixCloudBufferOp$Spi:Idepix.S2Cloudbuffer
SEVERE: org.esa.snap.core.gpf.internal.OperatorSpiRegistryImpl: org.esa.snap.idepix.seawifs.SeaWifsClassificationOp$Spi:Idepix.SeaWifs.Classification conflicts with org.esa.s3tbx.idepix.algorithms.seawifs.SeaWifsClassificationOp$Spi:Idepix.SeaWifs.Classification
SEVERE: org.esa.snap.core.gpf.internal.OperatorSpiRegistryImpl: org.esa.snap.idepix.seawifs.SeaWifsPostProcessOp$Spi:Idepix.Seawifs.Postprocess conflicts with org.esa.s3tbx.idepix.algorithms.seawifs.SeaWifsPostProcessOp$Spi:Idepix.Seawifs.Postprocess
INFO: org.esa.snap.python.gpf.PyOperatorSpi: Python operator 'py_sambuca_snap_op' registered (Python module: 'sambuca_snap_op', class: 'sambuca_snap_op', root: 'C:\Users\ABL\AppData\Roaming\SNAP\modules\org-esa-sen2coral-sen2coral-inversion.jar')
INFO: org.esa.snap.core.gpf.operators.tooladapter.ToolAdapterIO: Initializing external tool adapters
INFO: org.hsqldb.persist.Logger: dataFileCache open start
org.esa.snap.core.gpf.OperatorException: [output] is null
at org.esa.snap.core.gpf.internal.OperatorExecutor$GPFImagingListener.errorOccurred(OperatorExecutor.java:376)
at com.sun.media.jai.util.SunTileScheduler.sendExceptionToListener(SunTileScheduler.java:1646)
at com.sun.media.jai.util.SunTileScheduler.scheduleTile(SunTileScheduler.java:921)
at javax.media.jai.OpImage.getTile(OpImage.java:1129)
at com.sun.media.jai.util.RequestJob.compute(SunTileScheduler.java:247)
at com.sun.media.jai.util.WorkerThread.run(SunTileScheduler.java:468)
Caused by: java.lang.IllegalArgumentException: [output] is null
at org.esa.snap.core.util.Guardian.assertNotNull(Guardian.java:67)
at org.esa.snap.core.dataio.AbstractProductWriter.writeProductNodes(AbstractProductWriter.java:103)
at org.esa.snap.core.gpf.common.WriteOp.doExecute(WriteOp.java:304)
at org.esa.snap.core.gpf.internal.OperatorContext.executeOperator(OperatorContext.java:1243)
at org.esa.snap.core.gpf.internal.OperatorImage.computeRect(OperatorImage.java:65)
at javax.media.jai.SourcelessOpImage.computeTile(SourcelessOpImage.java:137)
at com.sun.media.jai.util.SunTileScheduler.scheduleTile(SunTileScheduler.java:904)
… 3 more
Error: [output] is null