I have a problem with developing plugins in Python and Java.
After building and installing the plugins supplied as examples, when trying to launch them, the following exception occurs:
java.lang.IllegalArgumentException: No SPI found for operator name 'MyOp'
	at org.esa.snap.core.gpf.ui.DefaultSingleTargetProductDialog.<init>(DefaultSingleTargetProductDialog.java:78)
	...

This happens for both the Java and the Python example operator plugins.
(Actually, the Python plugin works as long as no other example plugins are installed).
I have downloaded the code for the examples from https://github.com/senbox-org/snap-examples/archive/master.zip .
I used NetBeans 8.1 to build the plugins. I used the IDE "Build" command, which launched the Maven build and produced the .nbm file in the "Target" folder.
I have tried with both the binary version of SNAP Desktop (4.1.0) and one I built from the current sources (5.0.0).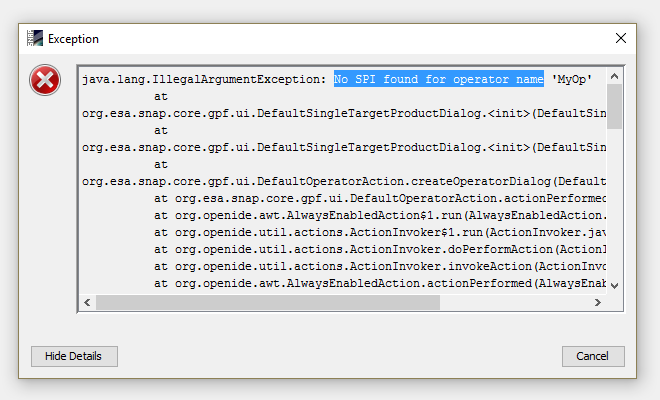 Is this a known problem, or am I doing something wrong?