Running the installer file as sudo made the error disappear for me (ubuntu 18.04) :
sudo wish PolSARpro_v6.0_Biomass_Edition_Linux_Installer.tcl
Hi Guys,
When I Installed POLSAR PRO 6.0, it's asking for the Load Configuration and link PDF, SNAP, GIMP, Google Earth, Image magick with POLSAR Pro. How can I solve this.
hi i send the error message. i am not able to do terrain correction for polsarpro images, can you help me
what kind of data did you process in PolSARpro?
Sentinel-1, SLC data. i calculated Shannon entropy. i need terrain correction, but i am enable to do
you can use Utilities > SNAP S1TBX > Geocode Parameter directly in PolSARpro
it is asking metadata xml. I gave the xml but it is showing the error this xml is not config
error message is The config_acquisition file does not exist
i tried these link of steps. Finally the product doing terrain correction, error in last step while doing terrain correction. it is saying doing it but two days also no progress, one small area it will take few seconds but it is taking two days but not completed. means some error

Thank you very much ABraun. now i can able to do geo-coding in SNAP. Can we able to do in POLSARpro itself. can you help me how to solve the metadata.xml error in POLSARpro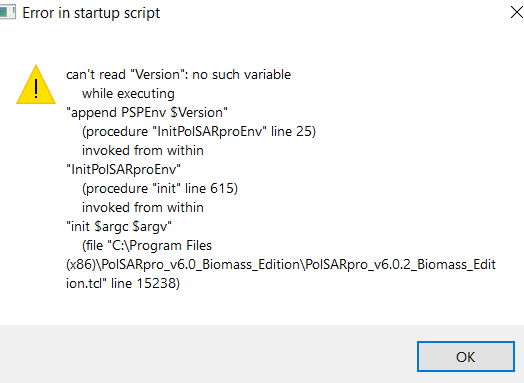 when I install polsarpro v6, I have a problem below. Can you help me fiix this problem? Thank you!
This should probably be moved to a top-level post…
@thuynguyenl157 you should provide a bit more of information… what operating system are you using? what version of TCL/TK? How did you try to start the application? It's quite difficult to understand what may be going on without full context.
hi, could you please tell me how did you do geo-coding with the UAVSAR in SNAP?
Thank you so much.
Dear Rotrigo,
I'm having the same issue; could you please explain how to fix it?
Hello, I want hh,hv,vh,vv parameters from the same uavsar data . How I can do so?