Hi,
I have made a stack of preprocessed S1 to do change detection. As for the the preprocessing pipeline I followed the SNAP tutorial . As the result I have calibrated coefficients beta0, sigma0 and Gamma0 (all in dB) for 15 days.
In order to see and compare raster dynamic ranges across the TS, I calculated min, max, median, percentile(1) and percentile(99) of each raster. In Image bellow you can see the values calculated over Sigma0 and across VV/VH polarizations :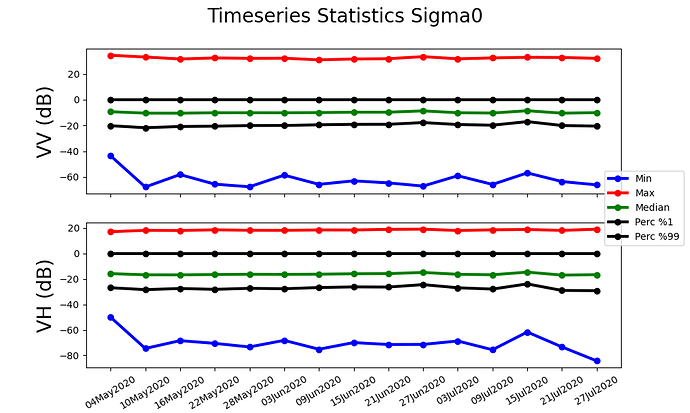 The difference between the 'Min' and the 1% Percentile and between 'Max' a 99% Percentile curves is quite large, despite all the radiometric correction that has been done. Here one can see the nominal distribution of data lays in the range ~(-25, 0) dB for both VV and VH rasters.
As I am trying to use the TS for change detection using a thresholding method (and I want to calculate those thresholds automatically) I wonder if It would be OK to transform/replace all the extreme values with the 1% and 99% percentiles so that the Min/Max of the raster intensities represent the real distribution of the data ?