Hey Guys,
I do not know for sure if I can ask this stuff here, since I am not using SNAP for my Analysis.
I am trying to do a TimeSeries in Google Earth Engine for Pixels in a lake in Sweden. But I get very different Values for different Images that were taken right after another, I am pretty sure that this might be because of differences in the incidence angle.
According to the website of GEE, they do the following preprocessing themselfes:
Apply orbit file

GRD border noise removal

Removes low intensity noise and invalid data on scene edges. (As of January 12, 2018)

Thermal noise removal

Removes additive noise in sub-swaths to help reduce discontinuities between sub-swaths for scenes in multi-swath acquisition modes. (This operation cannot be applied to images produced before July 2015)

Radiometric calibration

Computes backscatter intensity using sensor calibration parameters in the GRD metadata.

Terrain correction (orthorectification)

Converts data from ground range geometry, which does not take terrain into account, to σ° using the SRTM 30 meter DEM or the ASTER DEM for high latitudes (greater than 60° or less than -60°).
Here u can see my result:

Here is a chart of the angle-values: (Ignore the y-axis name, I just did not change the code)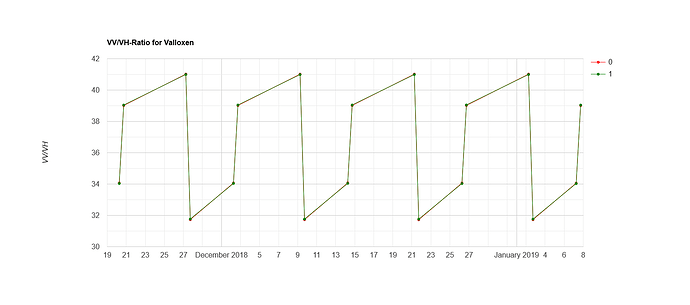 As you can see, for the 27th of Novembre, there are two very different Values for VV/VH, even though there might be some differences, they should not be that big.
Is there a mathematical way to correct for the incidence angle by now? I found this topic Incidence angle correction of Sentinel 1 but it did not really help me.
Edit: I just realised, I did the same Preprocessing (+Speckle Filtering) in SNAP to get a first time series, but did not check the angles. So the problem should also be apperaing in SNAP if I downloaded all available data?
With best regards,
Felix