I am a bit confused by the different S2 Reader available for different UTM Projections. I assumed that all readers would visualize the complete scene in the selected projection, but instead, only a fraction of the scene is visible. To find a reader that is appropriate, I would have to trial-and-error, I guess.
QUESTION: Is that a wanted behaviour or a bug?
FEATURE REQUEST: I would like to always see all data. Or include a checkbox for that option.
For example using the following product:
S2A_OPER_PRD_MSIL1C_PDMC_20150812T193618_R108_V20150730T103914_20150730T103914.SAFE
SNAP offers Readers for 3 different UTM zones, here are the scene extents that will be shown to the user: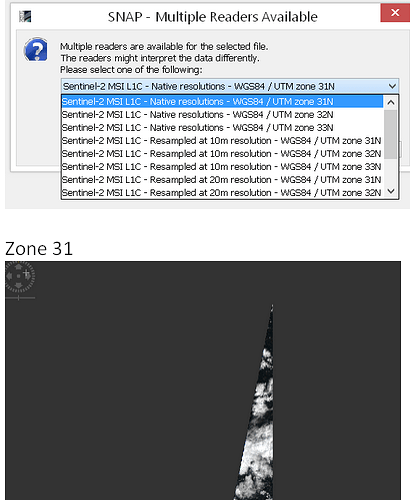 Regards
Andreas