Good morning everyone,
for my university thesis for the first time I'm using the forum for technical advise, I apologize if I'm expressing myself incorrectly.
I keep getting this error while processing a Sentinel-2 image with Sen2cor using the DEM and I can't go forward.
File "C:\Users\pc owner.snap\auxdata\Sen2Cor-02.05.05-win64\lib\site-packages\osgeo\gdal.py", line 2835, in Open
_ return gdal.Open(*args)
RuntimeError: `C:\Users\pc owner\Documents\sen2cor\2.5\DEM\srtm_L2A_T32TNS_A014791_20180422T102115_src.tif' does not exist in the file system,
and is not recognized as a supported dataset name.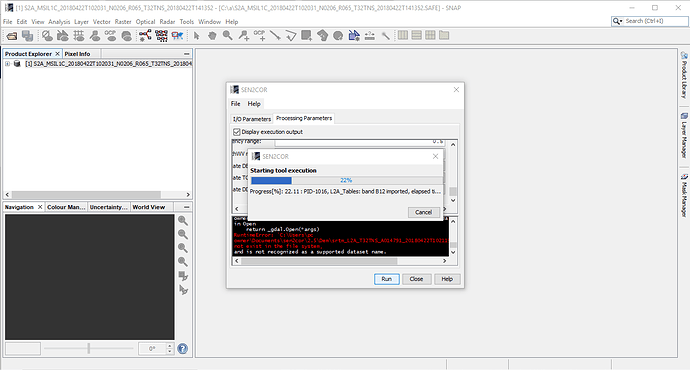 I tried:
creating a folder DEM in sen2cor folder and as well in 2.5 folder
-cancelling the folders DEM (in the folder 2.5 and sen2cor )
-cancelling the two DEM downloaded which were actually downloaded correctly

But nothing seemed to work.
ANYONE CAN HELP?
Thank you in advance
Jasmine