Hello! I have noticed some problems with product positioning after applying the Slice Assembly tool, which is particularly apparent after subsequent Terrain Correction. However, when processing each product individually, this does not occur.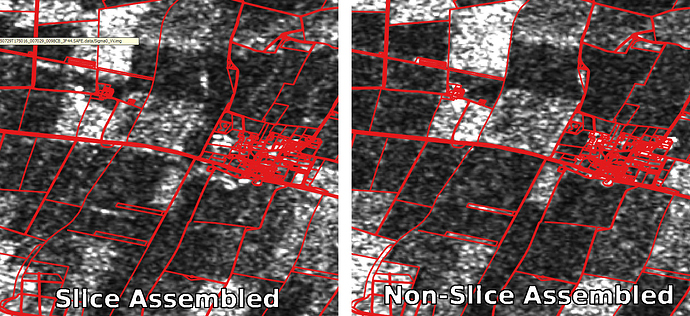 GRD Products of different dates show good levels of co-registration, even before any processing steps have been applied. However, once the Slice Assembly is run, a noticeable offset occurs from between products and from ground truth data.
The following has been observed:
Amount of offset is not equal for all capture dates
Amount of offset appears to change when the position of the start of the slice changes
Offset is not uniform across the image
Offset is worse the further away from the "first" product in the assembly, i.e. for Descending Tracks, offset is worse further south; Ascending Tracks, offset is worse further north
Please could you tell me what is happening here, or suggest any additional processing stages that are required to fix this problem.
---
Toolbox Version: Sentinel-1 Toolbox 2.0.3
Operating System: Linux (Ubuntu 14.04), Windows (7)
Relevant satellite products: Various (any slice assembled product)
example:
S1A_IW_GRDH_1SDV_20150729T174926_20150729T174951_007029_0098CB_963D.SAFE
S1A_IW_GRDH_1SDV_20150729T174951_20150729T175016_007029_0098CB_3F44.SAFE
Processing steps:
Problematic output:
Apply Orbit File (Sentinel Precise)
Radiometric Calibration
Slice Assembly <-- offset shown at this step
Create Stack
Terrain Correction (SRTM 3s - Auto Download)
Correct output:
Apply Orbit File (Sentinel Precise)
Radiometric Calibration
Terrain Correction (SRTM 3s - Auto Download)