Hello!
I am new to SNAP. I want to configure python for SNAP. Basically I need to do some tasks with SNAP using Python. I learned that there's a module called Snappy for this purpose.
I followed this link for the installation of SNAP : https://senbox.atlassian.net/wiki/display/SNAP/How+to+use+the+SNAP+API+from+Python
I am having Python 3.7 installed on my mac. Because this isn't supported, I used Miniconda2 for using Python2.7.
When I write "./snappy-config /Users/Vikram/miniconda2/bin/python2.7" in the bin folder of SNAP, I get an error message saying:
"Python configuration error: Python configuration failed.
Command [/Users/Vikram/miniconda2/bin/python2.7 ./snappyutil.py --snap_home /Applications/snap --java_module /Applications/snap/snap/modules/org-esa-snap-snap-python.jar --force --log_file ./snappyutil.log --java_home /Applications/snap/.install4j/jre.bundle/Contents/Home/jre --req_arch x86_64]
failed with return code 10."
Below is the image for the terminal window.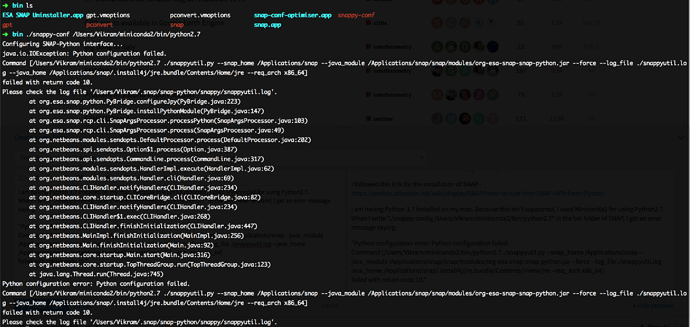 The log file as pointed above is as follows: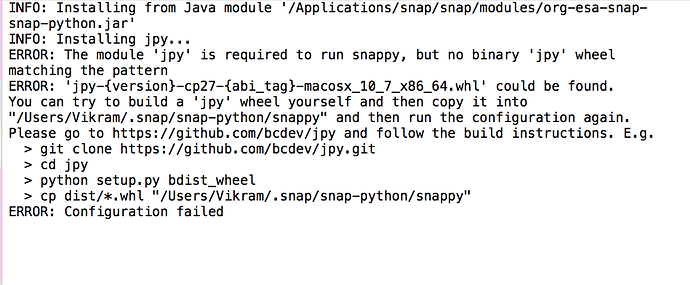 I have already checked that both python and SNAP are 64 bit installations. What is it that I am doing wrong in the procedure. Is there something else that I need to do? Kindly help me out.