Hello.
I'm relatively new to the InSAR world and SNAP. I've been trying to use snaphu via the MacOS terminal to unwrap interferograms created using S1 SLC imagery. To start (and to keep file sizes down), I've used one swath (IW1) and two bursts from a trial image pair.
I believe that snaphu has been configured properly on my machine.
I've used snaphu export with the following settings:
Col and row overlap: 0
Number of processors: 4
Number of tiles cols: 10
Number of tiles rows: 10
Cost mode: DEFO
Initialisation method: MCF (although have also tried changing this to MST)
Cost threshold: 500
When I copy the command prompt from the created snaphu.conf file and try to run, the process appears to start, but then aborts (see below):

The tile logs (e.g., tmptilelog_0_1) for the processing notes an inability to write to a file, causing the abortion of the process: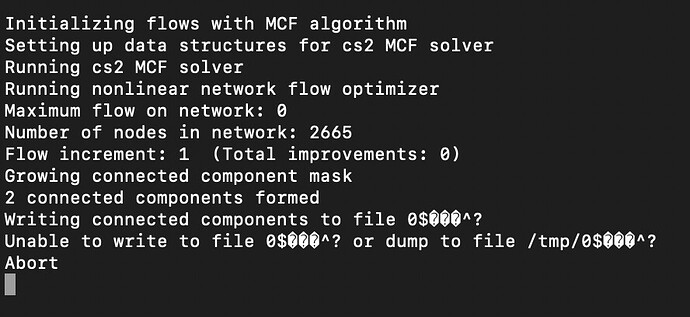 After searching the Step Forum and resulting advice for similar issues, I tried adding the full file paths for all files within the snaphu.conf file. This didn't make any difference to the resulting error.
Thinking that this may be a tile issue, I played around with changing the number of tiles and overlap. The unwrapping is only successful if I use one tile only. For such a small image (i.e., two bursts of one swath) this doesn't take very long to run. However, I'll need to upscale the analysis which will require increasing the number of tiles used for unwrapping.
Has anyone come across this unwrapping situation / error before? Or have any insight into why the unwrapping works using one tile, but not when using an increased number of tiles?
Cheers,
Alexis