Hello @marpet,
I am working on a project related to land cover classification. I use Support Vector Machine (SVM) as classification algorithm. In order to improve the results, i also incorporate texture analysis (GLCM) into my code. Due to the fact that texture analysis is so slow using python, i decided to take advance of GPT in SNAP for performance purposes. So, for automating the whole classification pipeline, i created bash script which calls the SVM python script and the GLCM-PCA graph i constructed using SNAP (first GLCM-PCA is calculated using the graph and the results of GLCM are fed into the classifier).
The problem is the following:
I need the final GLCM results to be in GeoTIFF format (so that it can be loaded into my python code) as i set up my algorithm to work with data of that format. So, in the graph shown bellow change the formatNameinto GeoTIFF format.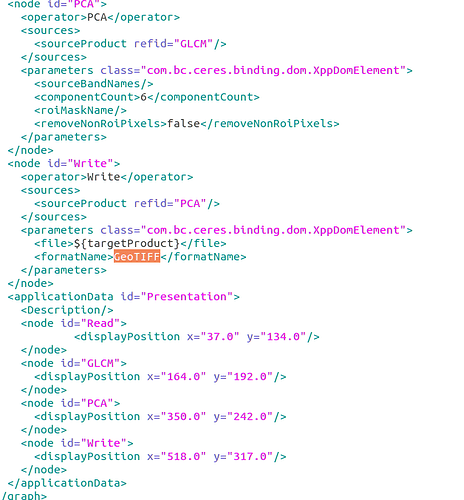 Once, i run the graph, it works fine and i get the following results.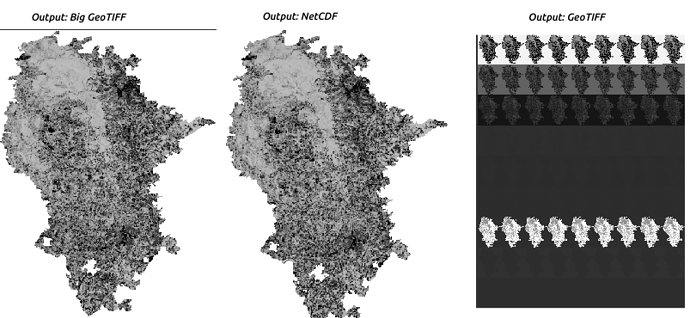 We see that, i tried three different format outputs. All formats work fine apart from geotiff. When loading the final GLCM (geotif) file into SNAP i get the image shown on the far right. I do not know whether anyone has come across with a similar issue.
So, someone might ask, why do not you use any of the other two formats?
NETCDF: firstly, my code has been set up to use geotiff format where i am more familiar with (it's not huge problem to switch to netcdf I guess)
Big GeoTIFF: big geotiff produce files of larger size compared to geotiff. I would like to keep the size of the files to the minimum.
thanks