Dear colleagues,
we are trying to conduct an atmospheric correction on sentinel images (Level 1C product) using Sen2cor plugin installed in the SNAP software, to obtain level-2A product at 10m- spatial resolution.
First, we apply the atmo correction without using a DEM ("DEM is not present, flat surface assumed"). No visual artefact appears in level-2A product outputs (see left figure).
Secondly, we apply the atmo correction with using a DEM (SRTM as the default DEM, selected in the L2A_GIPP.xml file). The level-2A products contain visible strips that look likes artefacts. We guess they are due to DTM spatial resolution as it look likes contours lines (see right figure).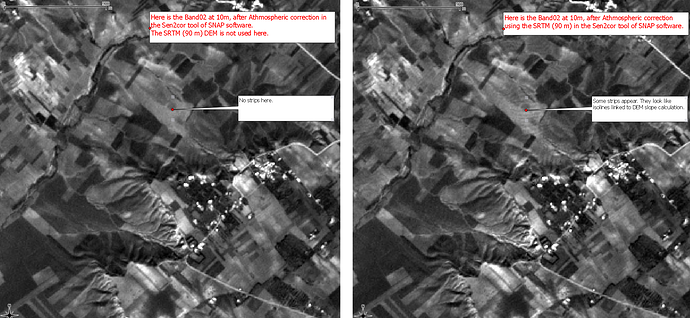 Then, we used our own 30m ASTER DEM data, but the results still contain strips …
Consequently we have several questions:
I saw some post saying that using SRTM data can lead to artefact. Do you already obtain similar problem than us?
And do you think it can be due to the spatial resolution of the SRTM data (90 m) (just to be sure that we're looking in the good direction to find technical solution?)
If "yes", Which spatial resolution of DEM is suitable for sentinel atmospheric corrections to avoid such strips?
Thanks for your answers,
Sincerely,
Mrs Gomez.