I am trying to calibrate Sentinel-1 data, and then run terrain correction to output sigma-naught as a GeoTIFF. Calibration (SAR Processing->Radiometric->Calibrate) appears to work fine, but when I Terrain Correct (SAR Processing->Geometric->Terrain Correction->Range-Doppler Terrain Correction) the output has the bottom portion missing like is shown here.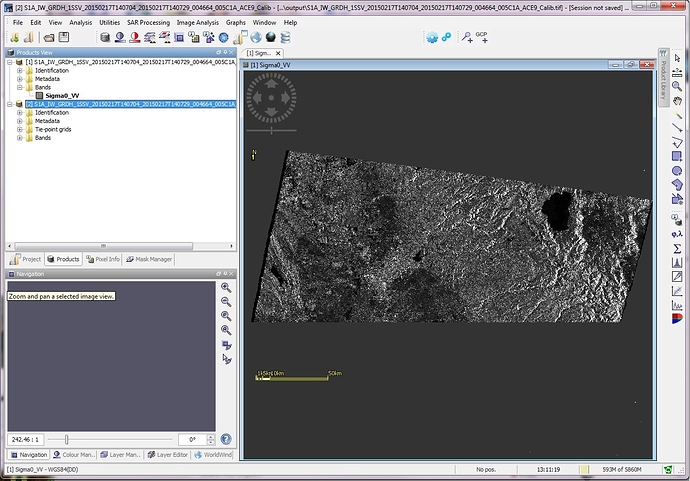 I have tried this using images S1A_IW_GRDH_1SSV_20150217T140704_20150217T140729_004664_005C1A_ACE9 and S1A_IW_GRDH_1SSV_20150301T140704_20150301T140729_004839_00605B_95A0. As the Calibration output shows the whole image I think I have the original data downloaded correctly.
The exact steps I've taken are as follows:
File -> Open Product -> select manifest.safe file
SAR Processing -> Radiometric -> Calibrate save as GeoTIFF or BEAM-DIMAP (I've tried both ways), and output sigma-naught
SAR Processing -> Geometric -> Terrain Correction -> Range-Doppler Terrain Correction save as GeoTIFF, deselect "Mask out areas without elevation", leave all other defaults
I am using the Sentinel-1 Toolbox version 1.1.1 on a Windows 7 64-bit machine with 12GB RAM.
Has anyone else encounter this issue or know how to fix it? Restarting the S1 Toolbox software did not make a difference.