I use snappy Python module to process Sentinel-1 data. My code is at https://github.com/kedziorm/mySNAPscripts/blob/master/myScripts.py
When I process only one file (run ipython, paste mentioned Python script, call appropriate functions) I have no problems. However if I try to process multiple files, I finally get an exception.
I've thought that some objects might not be removed from the memory, so I set them to None:

I've also set ulimit -c unlimited as suggested in exception:

I still receive the same error message as previously (so I'm pasting previous error message).
How can I fix that?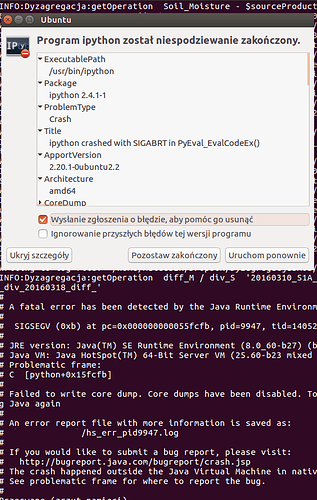 hs_err_pid9947.log (182,3 KB)
# A fatal error has been detected by the Java Runtime Environment:
#
#  SIGSEGV (0xb) at pc=0x000000000055fcfb, pid=9947, tid=140521561863936
#
# JRE version: Java(TM) SE Runtime Environment (8.0_60-b27) (build 1.8.0_60-b27)
# Java VM: Java HotSpot(TM) 64-Bit Server VM (25.60-b23 mixed mode linux-amd64 compressed oops)
# Problematic frame:
# C  [python+0x15fcfb]
#
# Failed to write core dump. Core dumps have been disabled. To enable core dumping, try "ulimit -c unlimited" before starting Java again
#
# An error report file with more information is saved as:
# ~/hs_err_pid9947.log
#
# If you would like to submit a bug report, please visit:
#   http://bugreport.java.com/bugreport/crash.jsp
# The crash happened outside the Java Virtual Machine in native code.
# See problematic frame for where to report the bug.