Hello all,
for the same orbit, swath and subswath I pre-processed a group of SLC products as follows:
S-1 TOPS Coregistration with ESD for each product pair (1 + 2, 2 + 3, 3 + 4…)
Batch-processing of the resulting pairs using the following graph:

The results make sense. However, I find it curious that the starting date of the VH band differs from that of VV. VH starts 12th Mar 22 (acquisition date of my first product) and VV starts 24th Mar 22 (acquisition date of my second product). See screenshot below.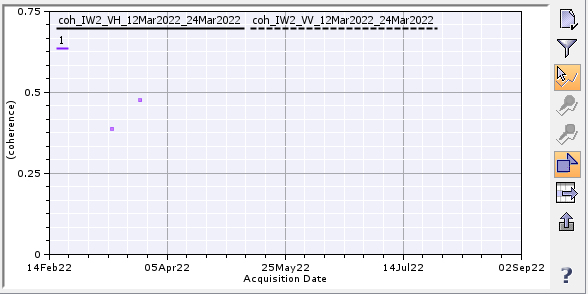 They were processed concomitantly, but it seems each band took a different reference product. However, this only happens for the first pair. Dates of the following coh values match for VH and VV. Exporting the VVcoh time-series data thus gives me two values for the same date, since pair 1 + 2 and pair 2 + 3 end up sharing a date:

I was wondering if anyone can explain why this happened?
Feel free to request more information. I am a beginner in the area of remote sensing.